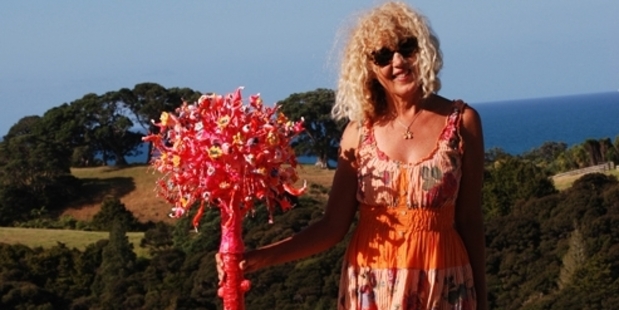 Choose from a scenic 5km or 10km walk/run route or a testing 10km cross-country run and a 15km mountain bike ride or a 30km mountain bike only route at Mangawhai's Bald Rock mountain.
Presented by the Kaiwaka Sports Association this Sunday, February 9. From 9.30am on Saturday, February 8, there will be free camping at the Kaiwaka Sports Grounds with refreshments, food and entertainment. For entry forms and more information, check www.kaiwakasports.co.nz or ring Evan Wright on (09) 431-4127.
Have a go Multimedia artist Suza is thrilled to be living in Bream Bay and is offering a few free introductory classes to entice students along. She said her first prospective students had a great time last weekend and she is hoping for more on Wednesday, February 12.
She held her first art workshop on the February 1-2 in her studio on her Lang's Beach farm. Her pupils arrived with their tents and campervans and spent a creative weekend doing lessons in drawing and painting, going for bush-walks and sketching safaris.
Her next introductory art class at the Mangawhai Library Hall from 1-3pm next Wednesday is for those who want to have a go.
German by birth, Suza grew up in Turkey, lived in Italy and Germany and settled in New Zealand many years ago where she gained a BA and MA (Hons) from Elam School of Fine Arts at the University of Auckland. She is best known for her installations and interactive works at outdoor exhibitions such as "Sculpture on the Gulf" and NZ Sculpture OnShore.
On Wednesdays, February 19 through April 16 from 1pm to 3pm, an introductory class called A Go @ Art will explore drawing, painting and clay modelling techniques. Also on Wednesdays, children's book illustration from February 19-April 16 at 4-6 pm. These upcoming classes are at the Mangawhai Library Hall and cost $110 for five sessions.
Suza would like to hear from you if you are interested in forming a life drawing group to draw, paint and sculpt from the human form in a stimulating and creative atmosphere.
For more information contact Suza on 021 924 819, (09) 432-1881 or visit www.suza.co.nz.
Mangawhai Tri Entries close on February 12 for the Sunday, February 16, Mangawhai Triathlon. Swim 500m or kayak 1.5km, cycle 20km and run 5km.
There is a new cycle and run course so check the website for information, rules and entry forms. Go to www.mangawhai.co.nz/ and click on what to do, then Mangawhai triathlon.
Theatre bus trips Please book now for these events, there are a few places left for Daniel O'Donnell on Saturday, February 22, at $150 for bus and ticket to the Bruce Mason Centre in Auckland.
Then on Saturday, March 29, is the Russian Ballet with Don Quixote, also $150 for bus and ticket to the ASB Theatre in Auckland.
On Saturday, March 15, Brooks is off to Mama Mia at $145 for bus and ticket to The Civic Theatre in Auckland.
There is a bit of breathing time before Annie on Saturday, June 21, at $182 for bus and ticket at The Civic Auckland. To book, email debbie@brooksmotors.co.nz or ring (09) 4318059 or 027 2907663. Check www.brookmotors.co.nz for more information.