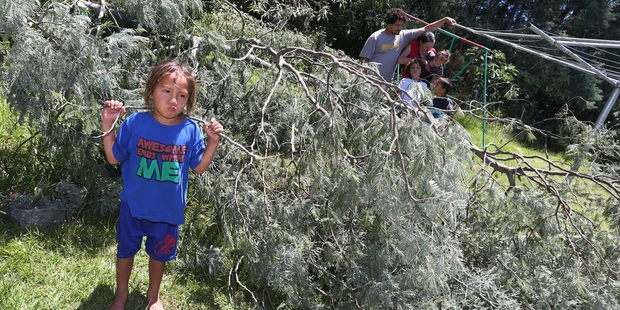 A Whangarei couple are thankful a falling tree narrowly missed their 5-year-old son who was playing on a swing only a few metres away, but they say it serves as a warning to others to check their boundaries for dangerous trees.
Zion Pomare had been playing on the swing at his Headly Place home in Raumanga when a wattle tree from the neighbouring property came crashing down at about 11.30am last Tuesday.
He screamed then ran for the safety of the Housing New Zealand home where his parents Justine Kingan and Henare Pomare were standing.
They were shocked at the damage caused by the falling tree and said it was a graphic reminder for all homeowners to check their boundary fences for trees that could potentially topple over.
"See what it's done to the fence? Imagine what it could have done to one of our children," Ms Kingan said.
"Normally the kids are playing marbles where the tree fell. Lucky they weren't, that tree would have crushed them."
Mr Pomare said one other time a tree had crashed into the back yard, but this time it was too close for comfort.
Zion, who started school last week, didn't have too much to say about the near miss. He was content to run round the backyard with his siblings.
Housing New Zealand Northland manager Dianne Te Hana said the land backing onto the couple's home was owned by a private trust.
"We are taking our tenants' safety concerns about trees on a neighbouring privately owned property very seriously," she said. Contractors removed the tree from the back garden on Thursday and visited the property again on Friday.
Ms Te Hana said the contractors advised they did not believe the other trees posed any imminent health and safety risk to the tenant.
However, she later confirmed about four other trees had been trimmed.