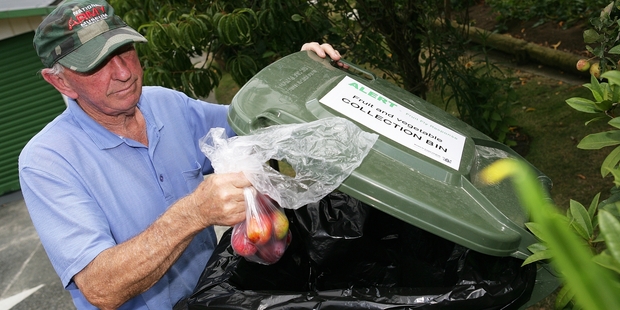 A Whangarei supermarket inside a quarantine zone is allowed to sell fruit and vegetables despite biosecurity restrictions on produce being taken outside the area.
Ministry of Primary Industries staff yesterday handed out pamphlets to customers entering Countdown at Okara Park, advising that people could not take fresh fruit or vegetables, other than leafy and root varieties, out of the 1.5km circular-controlled area called Zone B. In the heart of that circle is Zone A - ground zero, where a 200-metre circle extends from the Riverside/Parihaka property where a single male Queensland fruit fly was found on Tuesday.
The intensive operation to find and contain further infestation of one of the world's most unwanted Australian visitors includes people being able to bring fruit into the area but not out.
Zone B takes in some of the Riverside and Parihaka suburbs, across the Hatea River to the lower Town Basin and Okara Park. Any other businesses selling fresh fruit or vegetables in the area are also subject to the movement restrictions.
The Pak 'n Save supermarket at the Town Basin falls only metres outside the restricted zone. The Whangarei Growers Market on Water St today is also in the safe zone.
The restrictions rely on honesty. Customers the Northern Advocate spoke to yesterday outside Countdown came from several kilometres away.
Manager Jamie Brear reiterated the store was complying with the ministry's regime "as we recognise this is a serious biosecurity risk.
"Our customers aren't permitted to take fresh fruit and veges from our store if they live or work outside the controlled area, and that includes Click & Collect orders."
Signs were in-store and staff were alerting customers to the issue, he said.
The ministry's Andrew Coleman, leading the Whangarei operation, said compliance was a critical precaution to protect horticultural industries and home gardens.
Biosecurity staff have been going door to door in Zone A, laying more traps and checking fruit trees and fallen fruit. Residents were asked not to compost fruit and vegetable waste but use ministry-provided bins which would be placed in the neighbourhood.
The restrictions would be in place for at least a couple of weeks. Should more flies be found, the next stage would probably involve extensive ground spraying, Mr Coleman said.
"At the moment, the good thing is that we're talking hypotheticals."
The current operation includes a mobile laboratory being set up in Dwyer St, where at least 12 biosecurity specialists will analyse fruit from local gardens.
The fly was found in a routine surveillance trap set up on a recognised "pathway" of risk. It is the first time the Queensland pest has been found in Whangarei since a single male specimen was found in the same vicinity in 1995.
Single fly discoveries occurred in Auckland in 1996 and 2012.
Key produce: Citrus fruits, stonefruit, pears, apples, blackberry, boysenberry, grapes, feijoa, kiwifruit, passionfruit, tomato, eggplant, capsicum, pumpkin, avocado, custard apple, quince, persimmon, loquat, olives, oleander, kumquat, crab-apple, cape gooseberry and guava.