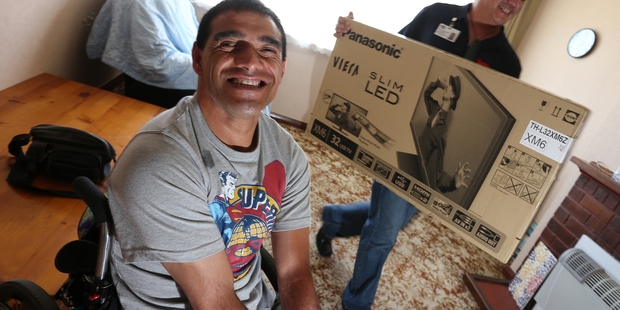 Thanks to public generosity, which came to the fore in spades, a new TV and a $100 gift voucher were donated to a Whangarei resident with special needs after his home was broken into while he was on holiday.
Henare Parangi was over the moon yesterday when The Northern Advocate delivered a 32-inch flatscreen TV donated by marketing and events executive Steph Godsiff of Haruru Falls and the voucher, donated by a person who wished to remain anonymous.
His Whangarei home was burgled sometime between December 16 last year and January 15 when he was visiting his whanau at Te Tii.
Also stolen were a DVD player, a radio, a computer modem, meat from the freezer and assorted groceries.
Thieves gained entry by jamming open a window.
"Wow thank you very much," Mr Parangi kept repeating.
The gift voucher would come in handy as his groceries were also stolen during the burglary.
He had a small box TV as a temporary replacement for the stolen one while arrangements were being made by his caregivers to purchase a new one.
A sporting fanatic, he was watching the Australian Open when the new TV arrived and was keen for some live action from Melbourne on a bigger screen.
Isaac Johnstone, a Ngati Hine supported living coordinator, said the kind donations have put a smile on Mr Parangi's face.
"He really appreciates it. From the first report [about the burglary], people have been so generous and we'd like to say thank you very much to those that helped him," he said.
Maybe Mr Parangi wouldn't have to buy a bigger TV but would need a DVD player, he said.
Ms Godsiff, who read the first report in the Advocate, said the TV was bought six months ago but hadn't been used.
"I have two more so decided to give one to him because he obviously needs it. It's awful what happened to him."
Mr Parangi celebrates his 40th birthday next month.