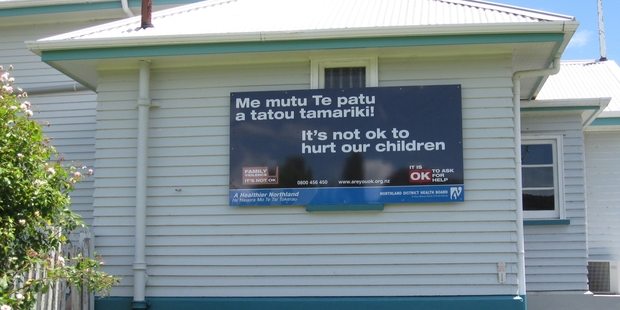 Northland is taking a stand against domestic violence and now people passing through Kaeo will get a graphic reminder of the stance with an anti-violence billboard taking pride of place on the town's police station.
Kaeo residents and motorists on State Highway 10 will find it hard to miss the sign which states: "It's not ok to hurt our children." It is part of the "Family Violence: It's Not OK in Whangarei" campaign, set up in response to an escalating problem in the region and some high profile incidents. It is run by community bodies, including police, Northland District Health Board, Women's Refuge, Barnardos, Ngati Hine Health Trust, The Pulse and Manaia Health Primary Health Organisation.
"Facing north-bound traffic the Kaeo board is highly visible and provides a good reminder that we do not tolerate family violence in our community," Northland DHB communications manager Liz Inch said.
"Children are our future and we must protect them at all cost. What you learn at home is what you do at home and outside.
If you are learning violence at home it becomes the norm and continues the cycle of violence."
Key aspects of the messages are that it is OK to ask for help," she said.
"All of our agencies are involved in the care and protection of families. We are clear that family violence is not ok and strongly advocate that people seek help through 0800 456 450 and break the cycle of violence," Ms Inch said.
Whangaroa iwi and the community were consulted on what message the billboard should promote. In Maori and English the campaign aims to create a social climate that supports behavioural change in preventing family violence in Northland.
The sign's location is also a reminder of where those who commit violent offending will end up.
Having its sixth anniversary this year the It's Not Ok campaign vision is to create a community where each person believes there is something they can do to help and will act when they know violence is happening, she said.