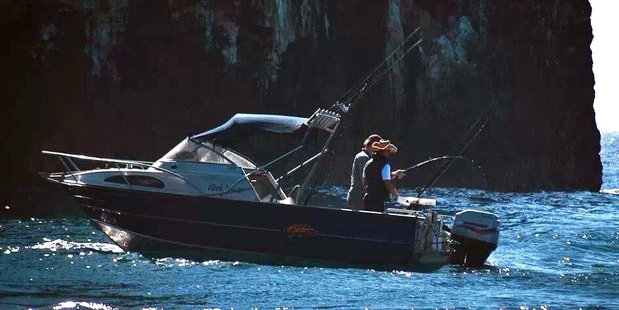 The Department of Conservation is hoping to lay charges against two men photographed aboard a fishing boat within the Poor Knights Islands Marine Reserve.
Kent Erickson, who works for Ocean Blue Adventures, was horrified to come across two men, one of whom appeared to be fishing, at the Poor Knights. The pair ignored loud whistles and calls to stop what they were doing.
DoC is investigating with a view to laying charges.
The name of the vessel and the two people on board has emerged online after the Facebook community shared a photograph taken by Mr Erickson, who was aboard a charter and assisting six tourists diving at the islands when he saw the men aboard an aluminium runabout. Two fishing lines were over the side, and one man was holding a fishing rod.
Mr Erickson whistled and called to the men to stop what they were doing but, when he boarded an inflatable boat to approach them, the men sped off, to a new location within the marine reserve.
Mr Erickson said he had never seen such a blatant flouting of the law.
"I don't see people very often doing it but sometimes you see boaties approach and they've been trawling along and they still have lines in and when we call out they are very sheepish. [However] with these guys it was very clear what they were doing and they were very close to the rocks."
DoC Whangarei conservation services ranger Marie Jordan said all boaties took an interest in monitoring what was going on in the marine reserve.
"This was pretty blatant behaviour. It definitely shocked us," she said.
Ms Jordan spoke to the two men late yesterday and said that any charges to be laid would be up to her managers to decide upon.
In 1998, the Poor Knights Islands was instated a marine reserve and no fishing is allowed within 800m from any rock. Anyone caught can face a $10 000 fine and an immediate confiscation of their vessel.
Two boaties who rowed a dinghy ashore on Aorangi Island in the Poor Knights Islands and let their two fox terriers go on to the land were prosecuted and fined $500 each in September 2009.
One fisherman was fined $500 in March 2009 for fishing within the marine reserve.