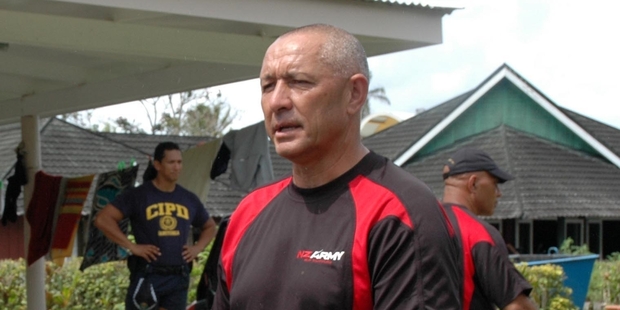 A Whangarei soldier has played a leading role on a course aimed at developing leadership and keeping Cook Island youth on the right track.
Staff Sergeant Mike Wallace was at the helm of the inaugural Cook Islands Youth Development Unit (YDU), backed by the New Zealand Defence Force and the New Zealand Police, held in Rarotonga recently.
The Defence Force, assisted by the Cook Islands police and a New Zealand police officer involved in Blue Light programmes, conducted the course which was instigated by the Commissioner of Cook Islands police and supported by the Cook Islands Prime Minister.
The aim was to build confidence and self-esteem among selected Cook Island youth and encourage them to be productive members of society.
Staff Sergeant Wallace, an army veteran with more than 30 years' service, including time spent in Bosnia, East Timor and Iraq, has been involved with the New Zealand Youth Development Unit since it started in 2010.
In Rarotonga, he and his team took a group of 30 young males, aged between 13 and 20, for a three-week course, culminating in a graduation ceremony.
Staff Sergeant Wallace believed the course had made a difference with definite signs some of the youth would find work, while the others would return to school to further their education.
But, most importantly, many of the boys had had a significant change in attitude, and were keen to use their skills positively.
The group included some youngsters who had fallen foul of the law, others from broken homes, and others with supportive parents who wanted their children to learn more leadership and constructive life skills.
The course was not a boot camp.
"We rarely raised our voices at the boys. It was more a case of getting them to do things a different way, to change their attitudes and give them more self-confidence and increase their self-esteem. Youth development is about changing a mindset - not changing the whole concept of who the boys are - and giving them the skills to make good decisions. We explained to them they could do anything they wanted to in life and the only person who was going to hold them up from achieving their aims was themselves," Mr Wallace said.
The youths lived marae-style in the hall of a local hostel and wore recycled and repaired second-hand uniforms from New Zealand.
Throughout the course, they learned to work in teams and on their own, completing community work, and also working on job experiences with local employers.
They had classroom time where they learned skills such as budgeting, goal-setting, planning, and the importance of family and community. They learned drill, completed an obstacle course, and worked on physical fitness.
Mr Wallace said when the youngsters first arrived he could tell many of them were wondering what lay ahead of them.
"What we tried to get through to them was that every decision they make has a consequence. Some of the kids came from rough backgrounds where they were used to being yelled at and pushed around. Others came from privileged backgrounds but where they had no boundaries."
He said having the Rarotongan community behind the course was vital for its success.
"We brought over three Rarotongan soldiers from our unit in New Zealand, partly as role models but also to increase the rapport with the boys. Local employers were great with providing work experience, and a couple have offered some of the older ones jobs."