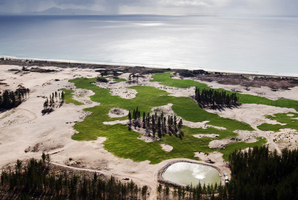 More than a decade after buying the 616 hectare Mangawhai North Forest as part of its Treaty grievance settlement, Te Uri o Hau can hope for a return on its $5.2 million investment.
Auckland Council hearings commissioners have given the green light to 46 house sites being developed in the forest, a major step in the Ngati Whatua hapu's long struggle to make the recovered ancestral property provide income for its 7000 members.
The development involves Te Uri o Hau giving 172ha of beach-front land, sand dunes and high-conservation value parts of the forest to the council which, together with 87ha of council-owned land at Te Arai Point, could establish a public coastal reserve of around 250ha in the area.
The development also involves measures to enhance protection of threatened birds, including the rare fairy tern, which nest and breed on the beach.
The hapu's long Kaipara east coast saga began after it sold the forest for $21.8 million in 2006 to Te Arai Coastal Lands (TACL), a joint venture company then 25 per cent owned by Te Uri o Hau's commercial arm, Renaissance Group, and 75 per cent by NZ Land Trust, a Queenstown-based development company directed by John Darby.
A TACL proposal to develop a holiday park and 180 houses on the land required a Rodney District Council plan change, successfully opposed by conservationists concerned about the fairy tern and other endangered birds. But after creation of the Auckland super-city in 2010, it was found Rodney had agreed to allow TACL to develop 44 rural residential lots and two other titles, in return for 172ha of reserve land and a 5.6ha wetland being given to the Auckland council.
Last year, the Overseas Investment Office approved American financier Ric Kayne paying $10 million for 230ha of the forest to create a championship golf course.
The development includes 17 houses, which would be purchased out of the 46 allowable under the Auckland council commissioners' decision.
Today, Renaissance still has a quarter of TACL shares, with the other 75 per cent held by the 46 shareholders of a company called Te Arai Land Holdings.
Te Uri o Hau Settlement Trust chairman Rawson Wright, who is a TACL director, said the 46 houses would be not be visible from the beach, as would the golf course buildings.
Development of the golf course alone is expected to provide more than 30 jobs, add $5.9 million to the local economy and bring in $3.5 million annually through golf tourism.