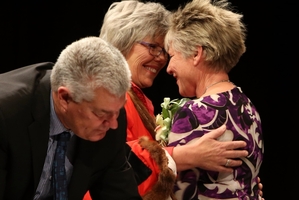 Whangarei's groundbreaking new council has been sworn in with waiata and a vow to get all sectors of the community working together.
The new line up is led by Mayor Sheryl Mai and Deputy Mayor Sharon Morgan - believed to be the first time two women have held the roles at the same time.
As well the make up of the council is half female/half male, with newcomers Susy Bretherton and Tricia Cutforth and former councillor Cherry Hermon joining incumbents Sue Glen, Ms Morgan, Shelley Deeming and Ms Mai.
The men on the team are incumbents Crichton Christie, Phil Halse, Greg Martin, Brian McLachlan and John Williamson joined by newcomers Stuart Bell and Greg Innes.
Ms Mai - the 22nd mayor of Whangarei - said she planned on having a council that was inclusive and got all sectors working together for the betterment of the district.
Quoting US president Abraham Lincoln she said councillors wished the council to be "government of the people, by the people and for the people, to which I will add, and with an opportunity for the people to take part".
"That's a high principle at any level of governance, and we are committed to it. We see it as an integral component of our purpose."
Recent changes to the Local Government Act expanded on that, saying the aim of councils was to meet the current and future needs of their community for good quality local infrastructure, local public services, and the performance of regulatory functions in a way that is most cost- effective for households and businesses.
Ms Mai added: "As we think and act locally, we must also be mindful of the part Whangarei plays in the bigger picture and look at ways of contributing to our extended communities - Northland and New Zealand - while also bringing longer-term and wider benefit to ourselves.
"I have no doubt this council will have 14 different ideas on how to do that, and hot debate as to how best to achieve it. But, through a commitment to working collaboratively, contributively and co-operatively, we will find a way forward, and forward we will go."
Highlights of the ceremony included performances by Sistema Whangarei - a musical group for children aged 6-8 and members of Whangarei Youth Music Group, as well as inspiring waiata.