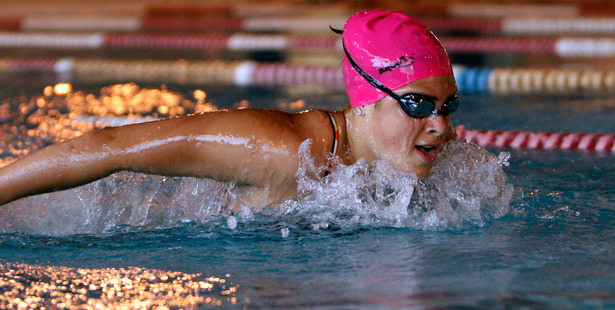 This time tomorrow Northland's top secondary school athletes will have been celebrated, as the annual ASB Northland Secondary School Sports Awards take place tomorrow night.
Amongst the 143 finalists who will compete against each other at the awards, there are many recognisable names, including swimming star, and defending sportswoman category winner, Melita Raravula, shooter - and defending sportsman - Mason Reed, golfer Kadin Neho, and squash stars Abbie Palmer, Jacinta Matson, and Max Trimble.
However, there are more sports on offer with champion BMXer Donald Ross putting his hand up along with footballers Ellie Andrews and Dallas Olsen.
Traditional sporting codes, like netball and rugby combined with codes being represented for the first time like AFL and Ki-o-Rahi, make up the 40 codes being acknowledged.
For the first time athletes with disabilities will be recognised for their own achievements under the umbrella of Special Olympics and Parafed along with top performing officials being recognised.
Meanwhile, Northland's top school-aged officials up for the inaugural award are Whangarei Girls' High School's Lucy Gardner-Lee and Anna Cresswell, Rodney College's Cory Nicholls (all for work within netball), and Huanui College's Dylan Codlin (hockey) have all been recognised.
From all code winners on the night, two awards for ASB Excellence - male and female - will be presented to students deemed to have the highest sporting achievement in a sport not offered at secondary school level.
A total of 21 Northland Secondary Schools, from Kaitaia to Wellsford, are represented in the awards.
The Finalists
AFL: Claudia McMeekin-Currin, Setareh Brown, Te Rei Clark, Te Kopa Tipene-Thomas, Alex Barnsley.
ATHLETICS: Amanda Still, Jessica Pilmer, Madison Doar, Harry Linford, Logan Himiona, Scott Gregory.
BADMINTON: Ella McKinlay, Sidiyaporn Insamran, Jack Ding, David Armitt.
BASKETBALL: Zhane Shortland, Serai Murray-Wihongi, Leylanni Cameron-Tana, Nassah Hetaraka, LJ Hetaraka, Tevin Wihongi-Henare.
BEACH VOLLEYBALL: Ashleigh Wynyard, Kendyll Peters, CJ Wyatt, Kane Turketo, Shane Witehira.
BIKE: Donald Ross (BMX), Louise Savage (MB and CYCLING), Julia Carter-Bell (BMX).
BOCCIA: Alex Dickson.
BOWLS: Jayden Tunstall-Whalley (indoor).
CRICKET: Olivia Lobb, Tia Saunders, Samantha Hardy, David Armitt, Kurtley Watson, Nick Stobart.
EQUESTRIAN: Tia Holyoake (Polocrosse), Mihi Shepherd (D), Benjamin Bremner, Joshua Bremner, Ella Poole-Crowe (SH), Ella Poole-Crowe (eventing), Ella Poole-Crowe, Anna Cooper, Nakeysha Lammers, Alex McKenzie (SJ).
FOOTBALL: Zoee Hoy, Ruby Taylor, Thomas Berry, Charl Compaan, Dallas Olsen, Ellie Andrews.
GOLF: Brooke Kingi, Jodi Macalister, Shanice Croft-Kemp, Taylor Gill, Kadin Neho, Julian Fowler.
GYMSPORTS: Claire Fuller, Kaitlyn Agnew, Chloe Campbell.
HOCKEY: Arnica Palmer, Georgia Miller, Nicola McDonnell, Harrison Lamb, Steve Nink, Selwyn Collins.
KARATE: Teuarangi Tana, Lorenzo Ear.
KI O RAHI: Amiria Te Iringa, Harona Te Iringa.
MOTOCROSS: Cameron Hill, Lachlan Sidwell, Cullen Curtis.
NETBALL: Olivia Lobb, Jasmine Sampson, Harono Te Iringa.
ORIENTEERING: Grace Elliot, Julia Carter-Bell, Shaan Hill.
ROWING: Josh Ackers.
RUGBY: Ashley Pohoiwi, Harono Te Iringa, Claudia McMeekin-Currin, Shelford Murray, Jesse Chapman, Jesse Rihari.
RUGBY LEAGUE: Hamish Pomare, James-Dean Fisher-Harris, Taui Arona.
SAILING: Penelope Wilson.
SHOOTING: Robyn Hammerton, Olivia Hendriks, Danica Radich, Jason Nola, Brady Roberts, Mason Reed (CT), Jared Wickcliffe (pistol).
SQUASH: Abbie Palmer, MacKenzie Johnson, Jacinta Matson, Max Trimble, Finn Trimble.
SURFING: Billie Scott, Rhiannon Fyfe, Matt McGregor, Joe Palmer, Manu Scott-Arietta.
SWIMMING: Melita Raravula, Freyah Ruri, Hayley McIntosh, David van der Star, David Platt, Poai Niha.
TRIATHLON: Ashlee Greenhaigh, Rachyl Edge, Portia Olney-Kemp, James Edwards.
TENNIS: Ella McKinlay, Abbey Sykes, Alana Torrie, Conner Van Dalsum, Ben Muller, Cory Nicholls.
TOUCH: Kayson Keerako, Havana Campbell-Connelly, Lil Reihana, Lee Turner.
VOLLEYBALL: Ashleigh Wynyard, Kendyll Peters, Lilyana Olsen, Kane Turketo, Shane Witehira, CJ Wyatt.
WAKA AMA: Zane Heta, Kalaia Heta, Jesse Rihari.
PARAFED: Daniel Gaualofa.
SPECIAL OLYMPICS: Alex Goldsack, Joshua Walker, Eryn Vesey.
ARCHERY: Harry McAllister, Kaitlyn Hand.
BOXING: Deanne Carpenter.
HIGHLAND DANCING: Sarah de Bruin, Shannon Vesey.
RODEO: Bradley Lanigan, Klay Lanigan, Dallas Olsen.
TAE KWON DO: Shania Kennedy-Lowe.
UNICYCLING: Samantha La Hood.
AREA SCHOOL: Amiria Te Iringa, Harona Te Iringa, Abby Chambers, Brady Roberts, Klay Lanigan, Bradley Lanigan.
ALL ROUNDER: Bridget Johnson, MacKenzie Johnson, Kendyll Peters, Amiria Te Iringa, Joachim Edmonds, Brad James, Te Kopa Tipene-Thomas, Max Trimble.
OFFICIALS NB: Lucy Gardner-Lee, Cory Nicholls, Anna Cresswell (netball), Dylan Codlin (hockey).
TEAM: Kerikeri High School sailing; Harris Bindon (captain), Matthew Bindon, Nik Blac, Alex Bryning, Shae Donahoe, Brons Gerrish, Alex Harris, Chris Smith. Whangarei Boys' High School golf; Kadin Neho, Braden Keown, Julian Fowler, Benjamin Kennedy. Tikipunga High School; Shane Witehira, Kane Turketo.