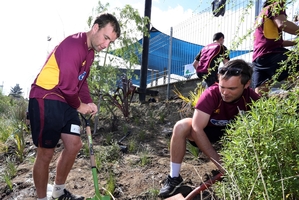 The Northern Knights were in the outfield yesterday when they swapped bats for spades outside Okara Educare centre.
The cricketers spent the day planting native plants along the bank area beside the outdoor playground, as part of their community work following a team bonding camp in Whangarei.
Educare general manager Marianne Walker said the owners of Educare, Alan and Jackie Lints, sponsored the Northern Knights. They had also sponsored the Hospice Christmas House Tour, being held from November 1 to 3.
"We just want to improve the bank area," she said. "The children are the guardians of the waterway. They've been helping with the compost and transporting the plants. They are all native plants to enhance the natural area, and also in line with the [district] council's plan."
She was thankful for Northern Knights' help in the planting.
Northern Knights captain Daniel Flynn said it was something he enjoyed doing. "It's good to give back to the community. We've been doing team bonding and it's also a good way to finish the session," he said.