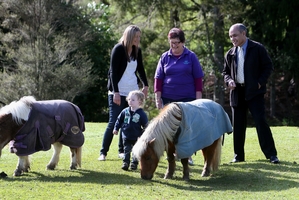 A Whangarei business has donated $10,000 to Riding for the Disabled.
IDEA Services Northland manager Carl Netzler said the business, Totara Properties Whangarei, made the donation as part of a larger donation to IDEA Services.
"Out of the substantial donation to us, the donor asked to donate $10,000 to Riding for the Disabled."
Mr Netzler said many of the disabled people in IDEA Services use Riding for the Disabled, with some of the more-abled disabled people working as volunteers.
"We're very privileged to have that donation," he said. "We're a hidden and silent community within the general community so it's hard to get funding."
Whangarei's Riding for the Disabled operations manager Sue Neilson said the donation was "amazing, incredible".
It could possibly be used towards refitting the tack and boot room, maintenance of the cottage and towards hay, although that was yet to be decided between the committee, she said.
"We have 90 riders and around 142 on the books. We service a huge community [of the disabled] - intellectual, physical, and also teenagers with self-esteem issues and victims of bullying."
"We do benefit the community in a huge way," she said.