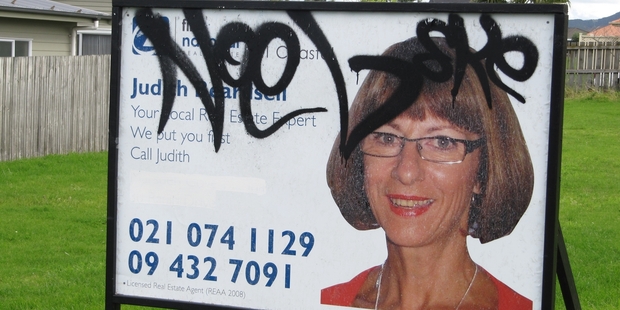 Vandals who left a trail of destruction after a party in Kerikeri are being urged to front up and fix the damage so the birthday girl doesn't have to.
Every street sign along a stretch of Kerikeri Inlet Rd and Wharau Rd was either pushed over or covered in spray paint on Saturday night. The graffiti is a combination of obscene symbols and birthday greetings.
Letterboxes were also targeted in the wrecking spree.
The vandalism is unlikely to go unnoticed by police because an officer lives next to the worst of the graffiti. The damage occurred after a combined 18th birthday party in the area.
The event itself was well supervised, with parents acting as security on the gate. Police received no complaints relating to the party.
One of the teens whose birthday it was fronted up on social media to express her disappointment at the actions of her "so-called friends".
She did not know who the culprits were but offered to repair the damage herself if they could not be found. The 18-year-old said she would visit the police station on Monday.
Anyone who knows who was responsible is urged to contact Kerikeri police on (09) 407 9211 or Crimestoppers, anonymously, on 0800 555 111.
Meanwhile, tagging at about 12 locations at One Tree Point, near the entrance to Whangarei Harbour, had a woman crying after she saw it during an early morning walk on Friday.
The woman, who asked not to be identified, said the multi-coloured graffiti on the Marsden Yacht and Boat Club building, One Tree Point Rd fences and signs, and around the La Pointe housing development was "shocking".
Club vice-commodore Ken Hornell was among the locals who got to work with turps and elbow grease after an entire wall of the clubrooms had been daubed with green and red paint on Thursday night.
The clubrooms had been tagged during the past two school holiday breaks.
La Pointe residents were also into action quickly to get rid of disfiguring paint. Real estate agent Judith Beardsell wore out a pair of rubber gloves removing graffiti from her signs at La Pointe and on One Tree Point Rd. Call Whangarei police on (09) 430 4500 if you can identify the vandals.