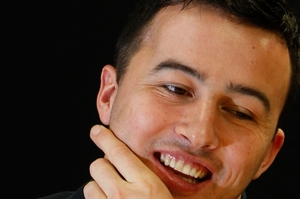 Get busy living or get busy dying.
That's Darryl Sabin's new motto.
The 22-year-old Northlander has had a taste of both. Four years ago, doctors declared him on his death bed after a serious head injury during a rugby game.
But he defied the odds - learning how to walk, talk, move his limbs and eat again. Now his goal is to inspire others, which he plans to do with his new motivational-speaking business. "My hope is that you will see your life in a different light and learn how to react to life," Darryl said.
His business is called 10Ninety after the rule that "life is 10 per cent what happens to you and 90 per cent how you react to it". "Your goal determines your outcome. Aim at nothing and that's what you will get. Get busy living or get busy dying," Darryl told the Northern Advocate.
The business was launched with his first key-note presentation to 100 health professionals in Wellington on Tuesday, followed by a presentation to parliamentarians on Wednesday. "Judith Collins said, 'That was the best presentation I have ever seen'," Darryl said.
His father, Northland MP Mike Sabin, was one of those moved onlookers. "I was really proud. It was amazing. People were crying and full of admiration," Mike said. "He's a bit of a natural. He's got that speaking charisma."
Mike has spent the past nine months working with Darryl to develop the business. He has also penned a novel about Darryl's journey - called The Long Way Home - the release of which coincides with the launch of 10Ninety.
And Darryl's ambitions don't stop there. One day he'd like to buy his own house on a farm in Northland, and have "some cattle, some sheep and some dogs". For now, moving out of his family home at Cooper's Beach into his own place in Whangarei has been a great achievement. "My own place and my own business - wow," Darryl said.
The Oxford Sports Trust has backed Darryl's presentation, welcoming applications for funding from schools, sporting clubs and other groups to meet the costs associated with Darryl presenting to them.
"The Oxford Sports Trust believes that Darryl's presentation would be a good message," said Mike. "This is a really exciting opportunity to get Darryl's messages and life lessons out there.
"It's making something good of a tragic situation."