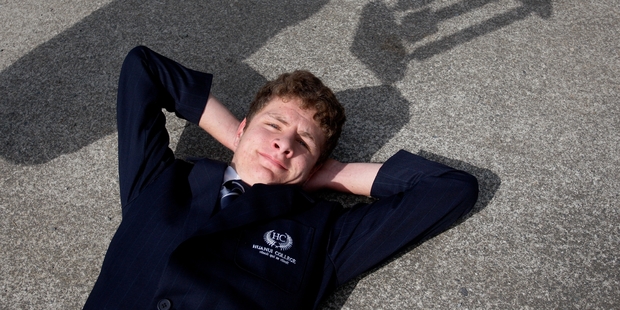 Hot driveways in summer could be heating swimming pools thanks to one Whangarei student's Central Northland Science Fair winning project.
Huanui College student Richard Young came up with his project to find a way to heat a pool from solar energy.
"I was talking to my friend about how she heated her pool with solar panels, and we were getting a new driveway put in at the same time and I just went from there," he said.
Richard's project involves a model to show how copper pipes laid in aggregate could be heated from the asphalt laid on top. The warmed water would be pumped into a swimming pool nearby.
The 16-year-old said his studies showed his model, Hot Aqua Driveway, heated water by 2C.
Huanui College head of science Fiona Borrer was impressed by the sophistication of Richard's project.
"He's a total self-starter. He is streets ahead of his classmates. The maths and physics equations were gobsmacking."
Richard said he didn't face any major hurdles in the investigation, saying his previous studies of solar energy gave him a good foundation to succeed with the project.
He has secured financial backing from Northland Inc, Robinson Asphalt and Callaghan Innovation to create a full-sized prototype for next year's Central Northland Science Fair.
Richard's project is being exhibited alongside 190 others at Forum North until 5pm today.
The exhibition has been a hit with 7-year-old Nathaniel Gardam, who is home-schooled and visited the fair yesterday with his mum Anjanette.
"He really likes the hands-on ones," Ms Gardam said.
She said it was a good chance for Nathaniel to see projects that were dynamic and engaging.