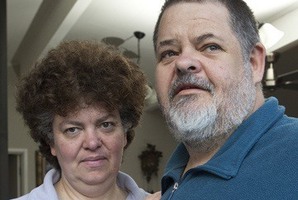 A South African immigrant who faced deportation for being clinically obese will have to pay for his own knee operation within the next 23 months to obtain permanent residency.
Albert Buitenhuis said he couldn't believe the feeling of relief when the letter from Immigration New Zealand arrived last Friday, giving him permission to to stay in the country for another 23 months.
"With that relief comes a lot of fear and stuff because we have to go back to something that's not there anymore."
He and his wife Marthie, 47, hadn't been allowed to work since May 2 and were forced to leave their Christchurch home and move in with Mr Buitenhuis' sister in Auckland because they couldn't keep up with rent payments.
He now has a job awaiting him in Christchurch, but they have lost their house.
Mr Buitenhuis said his wife was "just as happy as I am".
He was now working to piece together money for a bond payment for a flat in Christchurch and had four months of debt to pay off.
"There was one thing in the letter - they excluded me from national health for the next 23 months.
"So I have to fix my own knee in the next 23 months, before I can apply for permanent residency ... but that's ok, at least I can stay here."
Mr Buitenhuis said he was grateful to all those who supported him during his immigration battle.
The decision was made after he submitted a medical report showing he has a four per cent risk of suffering a heart attack in the next five years.
Mr Buitenhuis and his wife emigrated from Pretoria to Christchurch six years ago and quickly got full-time work at a local restaurant.
But since applying for permanent residency more than two years ago, Mr Buitenhuis' 130kg bulk held him back - despite losing 30kg in recent years.
Immigration New Zealand rejected his application on May 1, saying his obesity coupled with a knee injury could place too big a strain on the health system.
Immigration criteria decrees that an applicant's body mass index (BMI) must be under 35, but Mr Buitenhuis' BMI is 40, which makes him clinically obese.
Mr Buitenhuis said he was "stunned" by the original decision, and lodged an appeal.
A Facebook campaign was launched to try to fund their battle, and today displayed over 50 messages of support at the announcement.
"Great news congratulations on winning this battle with INZ. Please come back to Christchurch!" Bryan McNabb wrote.
"So very happy for you," Tanya En Chris Vivier wrote.
"Hopefully your case will help the rest of us fighting the same battle."