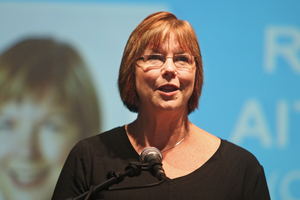 The Northern Mystics, so desperately poor on the court, are close to imploding off it as their season goes from bad to embarrassing.
The Weekend Herald can reveal that:
• Senior players contacted the chief executive to express their disappointment over the appointment of former Silver Ferns mentor Ruth Aitken.
• International shooter Maria Tutaia approached another franchise after Aitken was signed to see if there was a spot available for her.
• There is frustration among senior players over the failure of inexperienced players to adjust to a high-performance environment.
This unrest has spilled on to the court and training sessions.
The Mystics are last on the table after four losses, three of them by double digits. But it was last week's extra time loss to perennial stragglers the Tactix that vividly illustrated the Auckland side's spiralling issues.
As was reported in the Herald on Sunday last year, several senior players telephoned Mystics chief executive Julie Paterson following Aitken's appointment, complaining about the lack of consultation with the team. But rumours persist that the players' gripes went beyond that of just a lack of consultation, with some unhappy to see the former Silver Ferns mentor at the helm.
A well-placed source told the Herald that Tutaia approached the Central Pulse about a place on their roster, but the Wellington side were close to signing former Silver Fern Donna Wilkins.
The Silver Fern shooter opted to stay at the Mystics and was offered the co-captaincy alongside Anna Harrison, who revealed she was pregnant shortly after, but was missing for a critical part of the Mystics pre-season build-up while she holidayed in France.
It is not clear what the concerns were over Aitken's appointment, but Paterson said she doesn't believe there is any lingering tension.
"The players are really open about how they feel about things and they were really upfront with us at the time, but I think we've responded to their concerns and been able to manage it well. I'm confident the players are supportive of the coaching team," she said.
Despite her limited build-up, Tutaia is one of the few players showing any level of fight and determination on court. Aitken and Paterson have praised her approach and leadership.
"I've just been really impressed with the way she has stepped up both Netball
Turmoil in Mystics' camp sees team struggle on and off court
on the court and off it as well," said Aitken. "We meet regularly, she's wanting to have a say in how we operate and she is always thinking of the wider group."
But there remains a sense that the dynamic among the group is not as healthy as it should be.
After the Mystics' 21-goal loss to the Firebirds in round three, Tutaia said her side weren't just struggling on the court, they faced issues off it as well.
"Oh God, as soon as I said that I thought it might stir up some stuff," she said when asked to elaborate on her comments.
"What I meant was we've got to be accountable for our actions. We've got a lot of young players in the team, who are still getting used to this environment so we've got to help them through a lot of stuff.
"But they are super keen to learn, and they are contesting well at training and it's awesome to have them around."
Having lost several experienced campaigners from last year's line-up including Temepara George (retired), Harrison, and Charlotte Kight (torn Achilles), the Mystics have five players with no previous transtasman league experience.
There have been suggestions a blame culture is emerging in the group with some of the senior players becoming frustrated with the newcomers as they struggle with the demands of a semi-professional league, but Aitken denies this.
"There is no finger pointing, but what they do often do is go into help-out mode a little bit and that also distracts them from their own game."
Aitken said she is mindful the team are in a fragile position as they approach tomorrow's round five match against the Central Pulse, with the danger their season could spiral out of control if they allow negative mindsets to take root.
"It's always that ugly thing in the background, but I think the more you focus on it, the more it happens," Aitken said. "I'm an optimist, and I just see that we have to look forward and work really smart and hard and deliver our game-plan well."
ANZ Championship
Round 5
Tomorrow: 2.10pm Adelaide Thunderbirds v Melbourne Vixens, Adelaide; 4.10pm West Coast Fever v NSW Swifts, Perth; 7.20pm Northern Mystics v Central Pulse, Auckland.
Monday: 7.40pm Waikato-Bay of Plenty Magic v Canterbury Tactix, Tauranga.