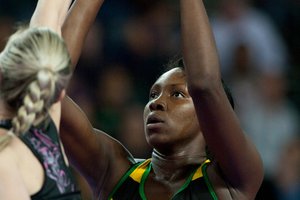 The Southern Steel will boast the tallest player in the ANZ Netball Championship next season following the signing of towering Jamaican shooter Jhaniele Fowler.
At 1.98m Fowler eclipses the height of her Jamaican teammate Romelda Aiken, a pivotal member of the Queensland Firebirds, and will prove an intimidating presence under the post for the Steel.
Securing an ANZ Championship contract has been an aspiration for the 23-year-old, who has been previously linked to the Adelaide Thunderbirds as a potential signing.
"The Steel presented themselves and I know the Steel are a good team, so I am excited to represent them," she said.
Fowler is eager to soak up knowledge while playing alongside the world's best netballers in the trans-Tasman league - advancing both her own development and that of her compatriots.
"My personal goal is to just get more experience in terms of playing with the elite players," she said.
"Our club league is not that strong in Jamaica so to play in the ANZ Championship is an opportunity that will not only benefit me but also netball in my country."
Fowler, who has spent the last week in Auckland competing at the Fast5 Netball World Series, will move to Invercargill in January to unite with her new teammates as they embark on an intensive pre-season build-up.
She will no doubt field plenty of questions regarding her move from the sunny climes of Jamaica to the deep south, but she was unfazed by the region's reputation for unpredictable weather .
"I've been to other countries where it has been cold ... I will be able to adjust," she said. "I have looked Invercargill up on the internet and I know it's very beautiful. It's going to be hard adjusting to living somewhere new for the first couple of months but I am excited for the opportunity."
Steel coach Janine Southby said, while the franchise continued to have a strong focus on developing players, Fowler would inject some valuable international experience.
"Someone of Jhaniele's calibre is a real asset to us and obviously her height is going to be a bonus," Southby said. "She's a really strong target for us on the court ... she's going to add a different flavour and bring a different culture to the Steel which is exciting."
- APNZ