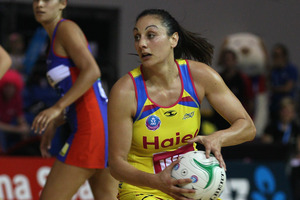 For coach Robyn Broughton, the laying down of a few home truths was a key marker in the revival of the Pulse in 2012.
After winning just five games across four miserable seasons, the Pulse have taken out three matches, gained their closest result on Australian soil and provided the highlight of the season so far with their thrilling last-second triumph over the Thunderbirds last Monday.
They still have a tendency to be inconsistent - witness the heavy losses to the Firebirds and Magic - but it is a mix of good and bad, rather than the awful combined with seriously awful that blighted most of their previous campaigns.
Broughton is quick to deflect credit but has thus far delivered on the expectation that she would turn the ship around, as they occupy the dizzy heights of seventh.
"One thing I emphasised from the start is that it is - and has to be - a professional environment," she told the Herald on Sunday.
"A professional environment means that it is not about people having turns at things.
"It is about earning your right to play and earning your right to compete.
"I also think that what you do at training is indicative of what you do on the court."
Inside netball circles, there was always a concern over the Pulse - centred around their work ethic, attitude to training, team culture and overall professionalism.
In 2011, there were signs of a rebirth and those hopes have been cemented this year.
"They want to play well and they don't want to make mistakes like throw-ing the ball away," added Broughton.
"It is just that many of them have never had perfection demanded of them before."
They are now seen as one of the hardest working teams in the league and train together as a team as much or more than any other New Zealand franchise. There is a genuine 'winning starts on Monday' attitude and a new sense of conviction.
"I hope they have that belief," says Broughton. "I believe in them and I hope they believe in themselves."
Like any good tale, there are several strands to the story. There is leadership across the court, with Katrina Grant getting valuable assistance from several senior players.
They look like a squad that is connected and happy and, when they are on their game, their team defence is as good as any in the league.
Confounding some doubters, Joline Henry has proved a great buy, bringing strength and experience to the defensive end and the midcourt. Caitlin Thwaites continues to be a revelation, doing her best to prove to Lisa Alexander that she deserves to be a Diamond. The players have bought into the Broughton training methods, which centre around game sense, problem solving on court and maintaining possession.
"They are a hard working team," says Silver Ferns coach Wai Taumaunu, "and play for each other. Robyn has a high expectation around basic skills and is big on team defence.
"Their defensive structure is impressive; [last] Monday night, Adelaide were slow and going backwards on attack and I can't remember seeing that from the Thunderbirds in the last few years."
Broughton remains as canny as anyone in the game.
Giving Henry the centre bib was brave - apart from a few minutes back in 2010, she had never played in the position before in senior netball - and could have backfired.
But the Silver Fern did her job, shutting down Natalie von Bertouch and her extra height also disrupted the clean ball into Carla Borrego and Erin Bell.
Broughton hopes the win can ignite their season and it has certainly provided a massive fillip for the team, franchise, sponsors and fans.
Wellingtonians have voted with their feet this season, attending games in record numbers and providing an incredible atmosphere.
"I could hear them all holding their breath, something I have never quite heard before," says Broughton.
Tomorrow Broughton faces a bittersweet trip to Dunedin to take on the team she guided for four years and 53 games.
The Steel have been the other big improvers of 2012, though the Pulse claimed their round two clash 47-42 in Napier, their first win over their southern rivals.
"Their key player is probably Donna Wilkins," says Broughton. "I know how good she is because I coached her for years and she is the one who often keeps them in the game.
"She's shooting at over 90 per cent after giving birth to her third child in January, which is amazing."