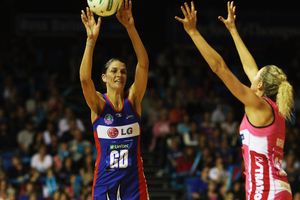 Defender Harrison says Firebirds' shaky start to season has removed aura of invincibility.
We have a bit more confidence because we know [the Firebirds] can be vulnerable if you put them under enough pressure.Mystics defender Anna Harrison
It is the match-up the Northern Mystics have been looking forward to all season.
Their round-six clash against the Queensland Firebirds on Sunday will be the first meeting between the two sides since the last year's transtasman league grand final.
The Mystics were well-beaten in the final, and memories of that defeat are still fresh on their minds.
But for the Firebirds, their championship-winning run must seem aeons ago. Unstoppable last season, they have looked ordinary this year, with just one win from their first five outings.
Although they put in a much-improved performance in their one-goal loss to the table-topping Melbourne Vixens last week, their fourth-quarter collapse suggests the Firebirds are a side low on confidence.
While she expects the Firebirds will respond strongly this week after the disappointment of their heart-breaking round four loss, Mystics defender Anna Harrison said the Queensland side's 1-4 start had removed the aura of invincibility that surrounded the team last season.
"Firebirds have had an interesting season so far, so going in we have a bit more confidence because we know that they can be vulnerable if you put them under enough pressure. Whereas [last season] maybe they were put on a pedestal a bit more because they were unbeaten," said Harrison.
Having seen the Queenslanders' game plan unravel against several teams this season, the Mystics have looked closely this week at how rivals have been able to nullify the considerable strengths of the Firebirds.
The obvious challenge of shutting down the Queensland attack is containing their key strike weapon, Jamaican international Romelda Aiken.
Mystics coach Debbie Fuller said the teams that had been successful against the Firebirds this season had been able to lessen 1.96m Aiken's impact by applying pressure further up the court.
"Most of them are putting defensive pressure on the midcourt, so by the time the ball gets down to the attacking circle they've accumulated massive pressure. And they've also targeted [goal attack Natalie] Medhurst and looked to starve her of possession," said Fuller. "So we'll be looking to do something similar."
She said the result of the cumulative pressure was poorly placed ball into the circle, leading to opportunities for the circle defenders.
For that gameplan to come off, it requires well-oiled defensive structures and strong understanding between each of the players - something Fuller believes has been lacking from her side in their previous two encounters.
She said the Mystics defenders seemed "out of sync" in their narrow win over the Central Pulse in round five, and she has spent a lot of time in training this week working on solidifying their defensive structures.
An overflow of talent in defence has allowed Fuller the luxury of changing the style of defence depending on the team's opposition.
"I talked to [the players] and asked them if they felt confused with people going in or out, and they don't believe that's the case," she said.
"We don't actually lose anything when people go in, it's not like it takes a person five minutes to get into a game. They each know what their role is, they know what their strengths are and they know what that offers the team."
This weekend's clash will be the first time the Mystics have been tested in Australia this year, and Fuller believes it will provide the team with a "good line in the sand" as to where they're at.