Identity of prehistoric bones found in Canterbury over 30 years ago finally revealed.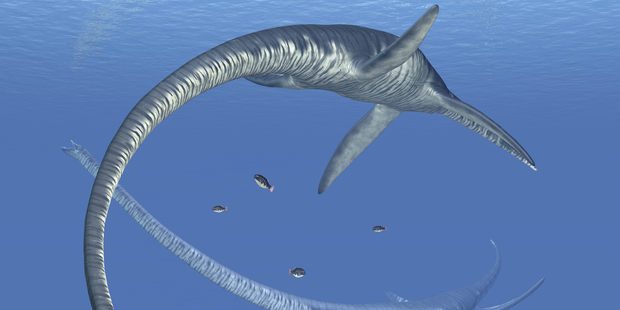 Call it the Cretaceous cold case.
For years, bones belonging to a mystery meat-eating ocean reptile had sat in Canterbury Museum, with scientists not completely sure just what kind of sea monster they had once belonged to.
The specimen, recovered from a heap of boulders in the Waipara River in Canterbury in 1982, was first believed to have been a pliosauroid, which were distinctive for their short necks, large heads and massive toothed jaws.
But the case has now been solved with help from visiting experts from Argentina and Chile, who conclude the bones came from an elasmosaur - a creature more reminiscent of the mythical Loch Ness Monster.
Elasmosaurs, a type of plesiosaur typically around 14m in length and which roamed our seas 70 million years ago, are noted for their extremely long necks, which helped them stalk prey from below.
Dr Norton Hiller, co-author of a resulting paper in the journal Cretaceous Research, described the remains as a "pretty scrappy specimen", with just a small amount of its neck preserved.
"But from looking at its vertebrae, we were able to see it was one of the very long-necked plesiosaurs."
The new work has also suggested the diversity among this type of reptile in the Southern Hemisphere was much greater than first thought. It is the first paper in a series shedding new light on New Zealand's collections of plesiosaur specimens, the first of which was discovered in North Canterbury 155 years ago.
"At one stage, we thought we were dealing with just these long-necked elasmosaurs, but now we are gathering evidence that suggests we had some of the shorter neck ones," Dr Hiller said. "We do have quite a few specimens, but they are represented only by one or two bones, which is a bit unfortunate."
Many were juvenile specimens, suggesting that young plesiosaurs tended to live close to the coast, while adults ventured further out into the ocean.
Other specimens of plesiosaur are kept at Te Papa and Otago Museum.
Long-necked hunter
• Elasmosaurs roamed Southern Hemisphere oceans in the late Cretaceous period, around 70 million years ago.
• Distinguished by their extremely long necks and short, barrel-like bodies.
• Hunted schools of fish, using their long necks to stalk from below.Elasmosaurs roamed the oceans over 70 million years ago.