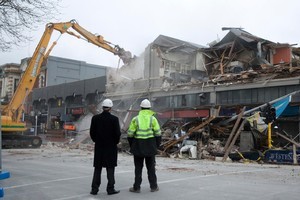 Some stressed out Cantabrians are filing bogus claims for earthquake damage in the hope they can get a better payout on their insurance.
Reports of people taking to their homes with objects and breaking windows claiming there has been a stress on a wall in their home have been filed with insurers since the September 4 quake.
However the scale of fraud was modest relative to the event, and the majority of the 180,000 domestic and 40,000 commercial claims were legitimate, said the Insurance Council.
"Generally speaking the population of Canterbury have been very honest," Council chief executive Chris Ryan said.
Every year insurers deal with $250 million worth of fraud across the industry.
Ryan said anecdotal evidence suggested most of the false claims had been filed by people whose homes were already damaged in the quake.
"Sometimes they are the result of people who are under stress and frightened and feel that if they do a little more damage to their property beyond what the earthquake has done, they might get a total payout," he said.
"Someone might say I don't like those old timber French doors so I'll damage the frame and get some new aluminium ones," he said.
Ryan said some Canterbury residents were 'worn down' six months on from the quake and people should be sympathetic to that.
"I'm not encouraging it (insurance fraud), but I'm saying I understand where they are coming from.
"It's not a huge issue for the industry, it's just a few," he said.
Earthquake Commission chief operating officer Lance Dixon said a small team of people had been assigned to deal with claims the commission had concerns over.
"It's something we have identified and it's on our radar but at the moment our priority is dealing with the 60,000 odd claims we have left."
AA Insurance head of corporate affairs Suzanne Wolton said the company had not received any fraudulent claims from the earthquake to date and did not consider fraud to be a huge problem, although it did have controls in place.
"The most important thing for us is to reduce stress and provide certainty for our customers. Cantabrians have been through enough and we want to make sure we make things as hassle-free as we can for them."
- NZ HERALD ONLINE