Early leak of the latest One Direction album not likely to damage sales, writes Paula Yeoman.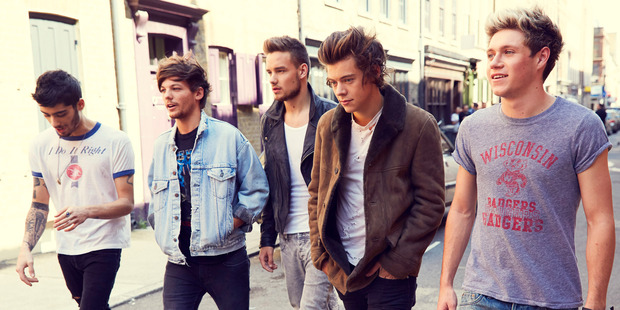 One Direction deny the leak of their third album was aimed at generating hype. It's difficult to stop new music leaking these days - impossible it seems if it's British boy band One Direction, whose third record Midnight Memories inexplicably surfaced online a week early.
Some speculated that it was just part of an elaborate staged worldwide album launch aimed at generating hype. The lads themselves insist it wasn't and are quoted in British media saying they fear it will ruin their chances of topping the charts.
Who really knows and, really, who cares? For those Directioners quick enough to hear the leaked album before it was pulled down, it was the best thing ever. Twitter went nuts with rave reviews. That says it all. Fans love it. Full stop.
And fair enough. This is starry-eyed teen pop at its best. These are tunes designed to send schoolgirls around the globe into frenzied states of hysteria.
That's a guarantee on fun and fast-paced songs like Best Song Ever, Diana and Little White Lies. It's also a given on the love ballad You and I and the "lift your mobile phones in the air" stadium anthems Strong and Right Now, co-written by One Republic front man Ryan Tedder.
Surprisingly, One D also delves into a little 80s rock with touches of Def Leppard on the title track and cheesy guitar solos galore on Little Black Dress.
But what does this mammoth album, which consists of 18 tracks if you opt for the deluxe version, hold for the mums and dads, and older siblings, who will have to endure a very long summer of second-hand listening?
Well, quite a bit, actually. Harry Styles, Niall Horan and Co had to ditch the training wheels sometime and so, they have cleverly sprinkled "grown up" songs here and there.
The notable ones are the acoustic driven tunes Story Of My Life and Through The Dark and the jaunty indie-folk ditty Happily.
Sure, Midnight Memories is just another album of pop, and a very long one at that, but it's certainly a notch above many of the same ilk. Some songs are as forgettable as they are disposable; but a lot are so catchy they will leave those over the age of 25 wishing they were 13 again - if for no other reason than sparing them the shame of having to explain to friends why they can't stop humming One Direction songs.
So the quintet shouldn't worry too much about that pesky leak. They're still the biggest boy band on the planet right now. It would take a small army, or perhaps Lorde, to keep them off that number one spot.
So it's four stars from my 13-year-old self and three stars from my 40-year-old self.
Midnight Memories is released tomorrow.