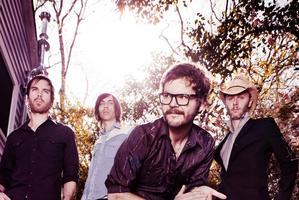 His stage name might suggest ranches or railways but Australian troubador Henry Wagons didn't always love country.
"When I first started going to see bands and getting interested in music in Melbourne, I was into the whole sort of underground 90s thing. I liked a lot of underground New Zealand bands actually, like Straitjacket Fits, and The 3Ds, and Bailterspace, they were some of my favourite groups back then.
"I always liked the country songs of indie bands though, like Pavement's Range Life, and The Silver Jews - indie bands that erred towards that country sort of theme. And then my drummer gave me the first Johnny Cash American Recordings thing, and that was the link I needed to unleash the beast I guess."
Wagons - real name Krips- has been recording and touring with his band for the last decade. Their usually busy international touring schedule has been curbed just at the moment because Wagons has just had his first baby.
"We've just had a little girl, and it's very exciting. She's a little angel actually. I thought these interviews would be a bit more psychedelic due to sleep deprivation, but I'm actually surprisingly rested".
But that's given the band encouragement to stay closer to home for shows (this is their first time visiting New Zealand as a full band, though Henry has played solo shows here in the past) and some time to work on their fifth album.
"We're actually really excited about this one. We've got Mick Harvey from the Bad Seeds producing, and fingers crossed we've done our job really well. It seems we've come up with quite a brooding sound, and we've got a lot of songs about drinking, and a lot of songs about driving, so it's our drink-drive record" he laughs.
He's not kidding about the inclusion of alcoholic beverages, though Wagons steers away from waxing lyrical on beer, wine, and whiskey this time, in favour of lesser known drinks.
"I'm really a poster child for not often sung about summer cocktails. The good old Campari doesn't get mentioned very often, and I can proudly proclaim we have a lyric that mentions the Campari and soda. So it's a 'getting drunk on the balcony and crying' record, but often crying tears of joy as well."
Their approach the the album recording has been partly inspired by an experience Wagons had back in March when he was invited to participate in a series of live recordings in Nashville, by United Records.
"They do this little series of live recordings upstairs at their pressing plant where they get this guy to come in, who runs an amazing studio called Welcome to 1979, and he doesn't use any equipment newer than that date - 1979.
"So he turned up with all this amazing gear, including this Beatles-esque tape machine, and he recorded everything live, and mixed on the fly straight to two-track tape, which then went straight onto 12 inch vinyl, at 45rpm, never having touched the digital realm. It's an analogue nostalgia wet dream.
"But it really was an incredible experience - it goes against so many modern recording experiences, and it's informed the recording of our new album. We've been trying to do as much as we can live, and keep everything from the original takes, so that experience is definitely casting its shadow."
In terms of inspirations, Wagons finds more often than not that it's books or stories that tip him off, as much as other music or personal experience.
"When people ask for your influences, you might expect to hear a list of other musicians, but I've found hearing stories at the pub, or reading some sort of trippy psychedelic narrative where one of [Japanese novelist] Haruki Murakami's characters goes off into the countryside chasing a dolphin into the horizon can be more inspiring than hearing a Glen Campbell greatest hits disc."
Interested punters can rest assured that Friday night's show will also be a little more in line with the energy required for dolphin chasing than a mild Rhinestone Cowboy experience, with plenty of raucous foot stompers.
"That stage will be drenched with a lot of rock n roll juice. We'll be road testing some new songs, but also playing a lot of stuff from our old catalogue, so it'll be like a Bee Gees One Night Only greatest hits set", Wagons says with a laugh.
"But I like to talk about where our songs come from, and explain things too, until I get a swift knock on the forehead from my bass player's headstock, at which point we kick into the songs."
Lowdown
Who: Australian alt-country musician Henry Wagons and his band
Where and when: Friday November 15 at the Kings Arms in Auckland.
Listen to: Latest vinyl release Live From Nashville: Upstairs at United Vol 9, or Rumble, Shake, and Tumble (2011)
Watch a video clip here