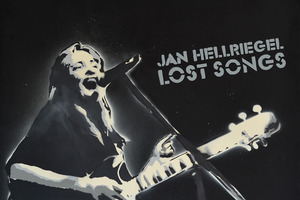 This is a collection of previously unheard singles from seasoned local songstress Jan Hellriegel, recorded between 1990 and 2003, and found in a box of old DAT and cassette recordings in her garage.
They were tunes she recorded as demos (some at York Street, some in a garage) when she was working toward her 1995 Tui award-winning album Tremble. At the time she was conscious of being pigeonholed as a rock-chick, and abandoned many of her rockier songs. But nearly 20 years on - and after 2009's comeback effort All Grown Up - she's decided they deserve an airing.
It's a tricky album to review because Hellriegel has made it clear she wanted to put the songs out warts and all, and without re-arranging or re-recording any of them. She's aware of their imperfections, even declaring in the liner notes, that had this been a formal album she would have culled seven of the 18 songs.
That may have been a good idea, because some of the tracks remain too demo-like to be truly enjoyable. They need honing, and re-recording to fulfill potential.
However, there are also a good number of songs that stand up well under scrutiny (Waves, Decline The Offer, Your Mind Is Amaze), which fans will be glad to hear. Indeed, a number feel like they could sit nicely alongside some of the female-fronted disaffected indie rock material of today - Street Chant, Grrlfriendz, O'Lovely, Autumn Splendour. She sounds like none of them, but the sentiment and sound palette aren't far removed.
Stars: 3/5
- TimeOut