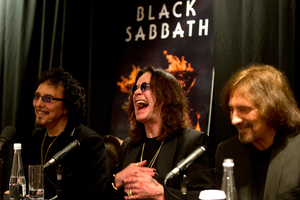 The Ozzman came to Auckland yesterday, but at a press conference with his Black Sabbath bandmates, the heavy metal legend was not taking questions on his rumoured split with wife Sharon or about being back on the booze and drugs.
Ozzy Osbourne, in his customary rambling and shaky drawl, did however have a laugh about using cocaine during the recording of the band's latest album, 13. He also responded to a question about whether he was "okay" - in reference to his personal life and his admission on Facebook this week that he had been taking drugs and drinking after years of sobriety - by saying, "Okay with what? Life? I'm still breathing."
The band are in town to play two concerts as part of the first leg on their current world tour.
Yesterday's question-and-answer time followed a listening session of the new album, which is released on June 7. Beforehand, record company Universal issued a request to media to refrain from any questions about Osbourne's personal life or risk being removed from the press conference.
But a chatty Osbourne, 64, and founding band members Tony Iommi (guitarist), 65, and Geezer Butler (bass player ), 63, were more than happy to talk about 13, being back on tour, and the most recent reunion of the classic Sabbath line-up (although drummer Bill Ward is not involved).
The latest album is the first by the original band members since 1978, after which Osbourne was fired because of his drug and alcohol use.
"I always felt like there was unfinished business, so to do this album is great. It's rounded it off all very nicely," he said.
The last time Black Sabbath played here they headlined the Great Ngaruawahia Music Festival in 1973 - that day they insisted a cross be burnt at midnight as they took to the stage. Not that there will be any cross-burning antics this weekend.
Osbourne: "It's a surprise, we've got a couple of new songs that we play but it's a surprise. You should come along."
Black Sabbath perform at Vector Arena tomorrow and on Monday.