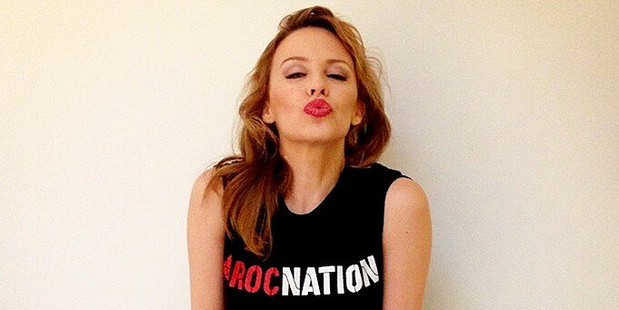 One day she's concentrating on her acting career, the next she's signing with one of the music industry's most powerful people.
Kylie Minogue announced via Twitter that she has signed with Roc Nation, the record label, management and publishing company founded by hip hop star Jay-Z.
"Kisses from my new home rocnation (sic)," she tweeted, along with an Instagram picture of herself in a Roc Nation T-shirt with pursed lips.
The company acknowledged the signing with a brief statement on its website.
"We would like to welcome Aussie singer, recording artist, songwriter, actress and designer Kylie Minogue to the Roc Nation family!" the statement read.
It went on to list Minogue's achievements - her 11 studio albums, two live CDs and more than 50 hit singles worldwide, including the Grammy-winning Come Into My World.
"Needless to say, we're excited to have Kylie join the Roc fam."
It hasn't taken long for Minogue to be fully integrated into the Roc Nation family - as a special guest at the company's post-Grammy benefit concert at the House of Blues in Los Angeles on Sunday, together with Timbaland and Deadmau5.
In January Minogue announced her split with long-time manager Terry Blamey which led to speculation she was retiring from the music business to concentrate on movies.
- AAP