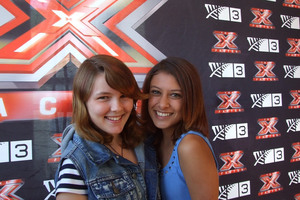 Queenstown yesterday hosted the first pre-auditions for the X Factor New Zealand - with eager songsters arriving well before the 10am start time.
More than 100 hopefuls waited patiently in the small Performing Arts Centre Trust Hall for their chance to sing in front of four TV3 executive producers.
Best friends Alex Johnston, 15, and Samantha Haines,14, both of Wanaka, were the first to try out for the local version of the international hit franchise.
They auditioned separately and said they thought their auditions went well, with positive comments from the producers.
Contestants do not find out whether they have made it through to the next round on the day so the girls said they would be awaiting the call.
The resort was the first of 27 towns across New Zealand to host the pre-auditions over the following six weeks.
TV3 spokesperson Rachel Lorimer said producers were delighted with the auditioners. "They were prepared and were giving it a good shot. We're looking forward to more," she said.
People need to be at least 14 years old to audition.
Lorimer encouraged singers to attend auditions in towns all over the country beginning in the North Island on January 18 and finishing on February 6.
Today, the X Factor show is in Invercargill and tomorrow Dunedin.