Internationally celebrated Australian rockers stun fans with emotional confirmation of split during live show.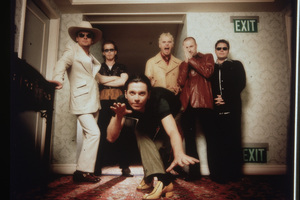 Twenty-five years after recording Never Tear Us Apart, INXS have decided it's time to break up.
One of Australia's greatest rock bands stunned fans with an emotional announcement midway through their support gig for Matchbox Twenty at Perth Arena on Sunday.
INXS drummer Jon Farriss broke the news of their split and admitted "I'm getting teary" before INXS launched into one of their biggest hits, Need You Tonight.
Frontman Ciaran Gribbin wrote on Facebook: "Dear friends, I know a lot of you are concerned and want clarification on what happened at the INXS gig last night in Perth. As I write this most of INXS are on a plane flying from Perth to Sydney. Please try and be patient as the band plan to release a full statement on the subject ASAP. I'm sorry I can't say anymore at this time and hope this helps ease a few worries and concerns. Thank you All for all the love and kind wishes. Ciaran."
Twitter was abuzz with speculation and Matchbox Twenty singer Rob Thomas tweeted after the Perth Arena show: "gonna miss the @inxs guys".
JD Fortune, another singer who fronted the band, also tweeted, saying: "So this is how it ends now, for them, xo".
He followed with: "They are my friends and I feel very sad for them. It was an honour to have been a part of the bands history. Love and Mayhem."
Formed in Sydney in 1977, INXS sold more than 30 million albums and became one of the world's biggest bands throughout the late 80s and early 90s.
Their 1987 landmark album Kick spawned the international hits Need You Tonight, New Sensation and Never Tear Us Apart. A year later they swept the board at the MTV Video Music Awards.
The band suffered a watershed blow when frontman Michael Hutchence was discovered dead in a Sydney hotel room in 1997.
The surviving members - brothers Andrew, Jon and Tim Farriss and Kirk Pengilly - vowed to carry on. They performed with several frontmen, including New Zealander Jon Stevens and Terence Trent D'Arby.
The band's search for a permanent singer was documented in the 2004 reality TV series, Rock Star: INXS, which was won by Canadian JD Fortune. The final change was initiated in September 2011 when Irishman Gribbin was hired after being discovered by Andrew Farriss, apparently to usher in a new era.
It was thought the band was to have a two-year break after the tour supporting Matchbox Twenty. But reports suggest that INXS already decided to call it quits before the shows started.
-AAP