Gomez will let fans choose their own setlist at their New Zealand shows next week. The British rock act talks to Chris Schulz.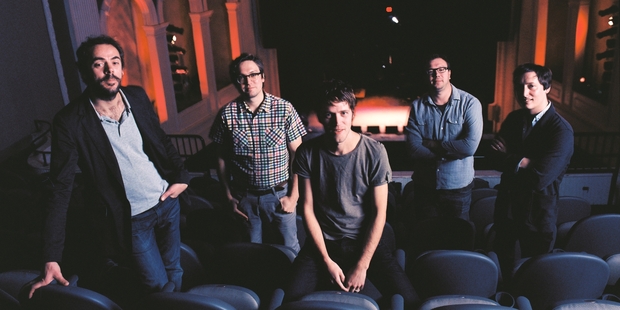 They've recorded seven albums together, toured relentlessly and won the Mercury Music Prize during their 15-year career span - but that doesn't mean Gomez know how to play all of their songs.
The British alt-rock act are heading to New Zealand for two shows later this month on their Quincenera tour, and the regular Down Under visitors are doing something different this time around: They're letting their fans choose the setlist.
But as drummer Olly Peacock told nzherald.co.nz, this means more work for the band as they relearn old, forgotten or rare songs that aren't usually played live.
"When we first started the tour in February, those first few soundchecks were kind of hairy," he said.
"At 12 o'clock the night before we have to close the voting out, so when we get up the next day we know we have to learn these new songs. Some of the voters have been very consciences, but there'll be a B-side, something we've never played.
Peacock said they were only just getting around to learning how to properly perform the songs from their Mercury Music Prize-winning debut, Bring It On.
"There are some songs off the first album that we've never played or couldn't play properly at that time ... and now we can play them how they were intended.
"It's only taken us 15 years to learn our own songs. Slow process here."
Peacock - who is joined in the band by Ian Ball, Ben Ottewell, Tom Gray and Paul Blackburn - said the setlists often ended up being region-specific.
"We've done it a lot in the States, and it's funny how sometimes it's quite consistent, then sometimes you go to a certain town and it kind of exemplifies the nature of the town.
"Some towns it might be like, Oh this is more of a hippy town with the stranger kind of material, this town likes the more rocking tunes, this one likes the hits. It keeps us on our toes."
And he had a warning for fans when they went to vote: Don't bother voting for Gomez' singles and hits, because they'll probably play those anyway.
"That's the funny thing: A lot of the songs that we might feel like we're obliged to play people vote for, which is like throwing a vote away. Whippin' Piccadilly, Get Yourself Arrested, How We Operate, See the World and most of the singles, it's kind of a given we'll be doing them.
"So people should be thinking, 'Oh what's that track four on the second album?'
One song Kiwi fans will hope the band plays is Machismo, a single that never appeared on an album but instead made it to a bonus disc included on Gomez' second album Liquid Skin.
It received endless radio play when it was released here in 1999, but hasn't been played by the band on their regular New Zealand visits - including their last tour in 2009.
Peacock said it was highly possible they would perform it - if it received enough votes.
"It could be a nice one to do over there - it's had a few votes here and there. We half attempted it a few years ago, and it was a little bit shambolic and haphazard, in a fun way. It's the single that we never had."
Gomez, who formed in 1997 and had almost instant success with Bring It On, and became known for everything-but-the-kitchen-sink mix of soul, rock, electronica and indie-pop, a sound fleshed out by three vocalists.
Their line-up has remained stable despite the band's members starting families and spreading out across the UK and the US, and they've churned out reliably consistent albums every few years, including last year's Whatever's on Your Mind.
Despite the positive reviews, Peacock said that album's lack of sales may see the band release their music differently in the future. They're thinking about releasing a series of "stylised" EPs - including "a blues record, a rock record, or one-microphone-in-the-woods type of record".
And asked if he thought the band could ever duplicate the prize-winning success of their debut, Peacock remained positive.
"I've always said, if we're not moving forward, we might as well give up. I've always felt we've traversed many different roots and sounds over the years, to get some sort of further acknowledgement of how we are (now), it would be nice to have another little moment again."
Who: Gomez
What: The Quincenera tour
Where: Wellington Opera House, October 24; The Powerstation, Auckland, October 25
Vote: Choose your own setlist here
Listen: Whatever's on Your Mind, out now