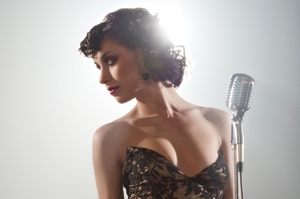 New Zealand pop sensation Kimbra has become the first Kiwi woman to reach No 1 on the Billboard 100 in the United States.
Australian singer Gotyes's single, Somebody That I Used To Know featuring Kimbra, this week soared to top spot in America after the song featured on popular TV show Glee and was then performed by Kimbra and Gotye on comedy sketch show Saturday Night Live.
It sold 542,000 downloads between April 9 and 15 - the fourth largest number of downloads for any song since SoundScan began tracking digital sales in 2003.
Somebody That I Used To Know, written by Gotye and performed by himself and Hamilton-born Kimbra, has already been No 1 in nine countries including New Zealand and Britain. The video has received more than 139 million views on YouTube.
And now Kimbra can add the American No 1 chart-topper accolade to a list supporting her ever-increasing popularity.
"Kimbra's collaboration brings her music, voice and her personality to the attention of music fans in the US and worldwide, which is what every artist strives for,'' Recording Industry Association of New Zealand chart manager Phil Matcham said.
People would now know the singer/songwriter's name and what she was capable of musically, he said.
And with the release of her first album Vows just around the corner, her latest achievement gave Kimbra the perfect platform to achieve further international success in her own right, Mr Matcham said.
Reaching No 1 on the Billboard Hot 100 list - a chart based on sales, airplay and digital downloads - makes Kimbra the first New Zealand woman to ever hit the top spot, Mr Matcham said.
"It's fantastic to see a Kiwi artist reach the top spot - it's a great track and we're thrilled to see Kimbra achieve such amazing success on the world stage,'' he said.
The only other New Zealand song to reach No 1 in the US was OMC's How Bizarre, which topped the Billboard Pop Chart in 1997.
The Flight of the Conchords reached the No 3 spot on the Billboard Albums Chart in 2008, while Crowded House's single Don't Dream It's Over made it to No 2 on the US Billboard top 100 in 1987.
Gotye, whose real name is Wouter De Backer, was born in Belgium but moved to Australia at the age of 2.
Somebody That I Used to Know is taken from Gotye's third album, Making Mirrors, and after writing the song he teamed up with Kimbra to record it.
Kimbra grew up in Hamilton but moved to Melbourne in Australia after finishing school.
- APNZ