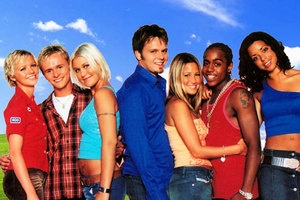 "There ain't no party like an S Club party" - and it looks likely the party will be back in action sooner than you think.
S Club 7, the hit-making British pop group created by Simon Fuller, are jumping on the reunion bandwagon.
The Daily Mail reported the seven-piece act have signed a new record deal.
"The guys have been inundated with approaches and offers over the past three years, but always said no," a spokesman said.
"'But following a series of talks and meetings, they decided to go for it. The band figured it was a case of now or never. And if the gigs go well there is the option to release a new album, plus a Greatest Hits.
"Everyone is really excited - and frantically getting back in shape."
Consisting of seven members - Hannah Spearritt, Tina Barrett, Rachel Stevens, Paul Cattermole, Jo O'Meara, Jon Lee and Bradley McIntosh - S Club 7 hit it big in the late 90s and early 2000s with hits like Bring It All Back and Don't Stop Movin'.
They sold 17 million albums, had four No. 1 UK singles and starred in their own TV show Miami 7 before splitting in 2003.
Blonde figurehead Rachel Stevens had the most success with a solo career thanks to her song So Good but most members have retreated from the limelight since the demise of the band.
Check out the video for S Club Party:
- Herald online