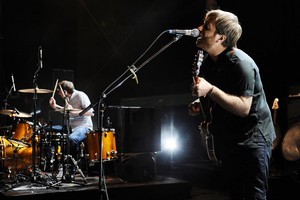 Somehow, on last year's Brothers record, Dan Auerbach and Patrick Carney of the Black Keys managed to sound like two stealth slackers.
It had that swaggering, hip-hop-influenced blues rock sound that has become their trademark over the past 10 years, and bristled with attitude. But there was a deliciously laid-back tempo and looseness to it too.
It was a classic and, in some parts of the world at least, it was the duo's breakthrough album selling more than 1.5 million copies.
On seventh album El Camino, they let loose once again but up the pace. Not so much in a wild and brazen style, but in a carefree and joyous way - like on the glammed up stomp and serenade of Nova Baby.
It's the sound of a band who walked into the recording studio, plugged in and played. Yes, much like they have always done, but this time what came out was 11 quick-fire tracks of effortlessly arse-shaking rock 'n' roll with a far broader appeal than anything they've done before.
If you thought first single Lonely Boy was good to dance to, then think again. The rock 'n' roll dance song of the year - and highlight of the album - is Sister with its chug and strut and woozy honky tonk chorus. It's perfect for getting your groove on to - and it's unlike anything they have done before.
Yet as a whole, El Camino is still uniquely Black Keys.
Things really start kicking along three tracks in on the hand-clapping sing-along of Gold On the Ceiling, which will have you twirling and flinging your loved one around the room, and later the thigh-slapping raunch of Run Right Back and the throbbing glam of final track Mind Eraser reveals the influence of bands like T-Rex and Black Sabbath (among many others).
The only let up in momentum is the plaintive acoustic opening of Little Black Submarines, before it breaks out in wailing guitar abandon, then there's the crashing cymbals, swirling vocals and psychedelic splurge of keys on Money Maker, and Stop Stop sounds like two lads from Akron, Ohio fronting a 60s girl vocal group.
While Brothers is still the most impressive Black Keys' album because it's inventive and has a consummate cool about it, El Camino is the one that will make them bona fide superstars. It has wide appeal but without heading off in a watered down Black Keys-lite direction, which the Kings of Leon did on their last album, Come Around Sundown. Instead, El Camino thumps and kicks along with hard blues-rocking ease.
Stars: 4.5/5
Verdict: The album that should make them superstars
Buy this album here.
-TimeOut