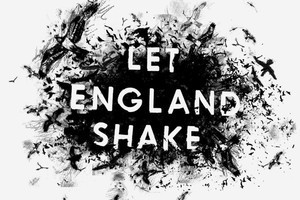 Rating: 5/5
Verdict: History recorded
There's nothing like the power of the pen. Especially when it translates into vocals that give you goosebumps and rhythms that send your blood on a rampage.
PJ Harvey's anti-war album is her eighth studio release but the one that should leave the biggest impact. Like a modern, stroppier version of Wilfred Owen, she stomps and bellows then quivers and quakes through poetry that reflects the futility of war - but at the same time serve as a peace offering, presented as sensitively, rationally and naturally as wild flowers in a woven basket.
It seems she was as affected by tales of the Anzacs in Gallipoli as she is by her country's involvement with war in the Middle East and perhaps in a deliberate effort to reflect the timelessness of the issue, Harvey has ditched modern sounds for contemporary, organic, folky instruments that could come from any era. Carefully selected brass and percussion build march-like momentum, and when juxtaposed with the lyrics like "soldiers fell like lumps of meat" in her first single, The Words That Maketh Murder, create something at once wonderfully uplifting and chillingly ghostly.
Her voice, which is gamine and cartoon-like but strangely soothing, was carefully selected to establish her as the narrator, she has said. And with it, she manages to at once empower the angry youth and charm the walk-socks off some of the West's war veterans.
- TimeOut