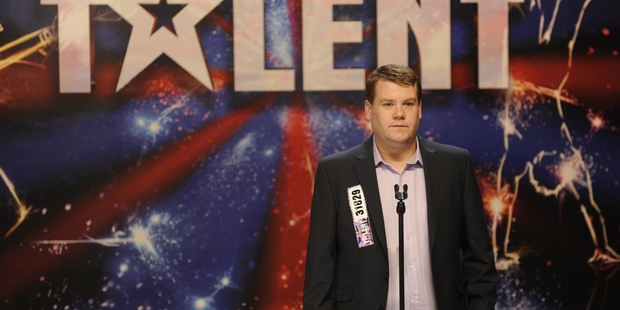 Paul Potts' first audition for Britain's Got Talent is one of the most viewed videos on YouTube. More than 15 million people watched this unassuming, shy and awkward man surprise the world with his spine-tingling rendition of Puccini's Nessun Dorma. One Chance is a lighthearted and entertaining biopic, telling the story of how Potts ended up on that stage.
He has a lot to thank the women in his life for. It was largely thanks to encouragement from his mother (Walters) and wife, Julie (Roach), that this Welsh boy from a humble background pursued his dream to be an opera singer. Much is made of the obstacles and hard times Potts overcame; being bullied as a kid, misunderstood by a sour father, written off by his idol Pavarotti, and illness and accidents. It feels a little overplayed, an attempt to make the contrast with Potts' success all the more remarkable.
James Corden is a lovely and very likeable Potts, but seems an odd choice in a film mostly focused on Potts' failures. Corden might make running down the street and selling a mobile phone seem funny, but doesn't quite have the gravitas to make the hard times look hard.
He is, however, convincing as an opera singer. Most of the singing we hear is Potts' voice but, guided by a voice coach, Corden sang live on set and his lip-syncing is flawless.
Corden's performance also helps make this a warm, amusing and light-hearted story. One Chance may be an unusual mix of traditional "beat-the-odds" drama and comedy but it's also an easy biopic to enjoy. It even ventures into rom-com territory as Potts woos wife Julie - who, by the way, is the surprise heroine.
If you're hoping for more spine-tingling moments such as Nessun Dorma, you may be disappointed. The famous audition is the one and only truly affecting scene; as eyewatering as watching it on YouTube for the first time.
Stars: 3/5
Cast: James Corden, Alexandra Roach, Julie Walters
Director: David Frankel
Running time: 103 mins
Rating: PG (violence, coarse language and sexual references)
Verdict: Sweet, amusing but contrived biopic.
Follow @nzherald_ent on Twitter for all the latest entertainment news.
- TimeOut