Director Roland Emmerich talks to Michele Manelis about his latest efforts to renovate the White House on the big screen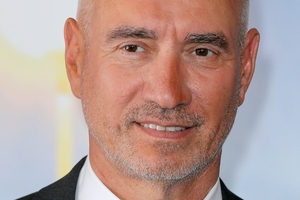 Roland Emmerich may be the second guy to blow up the White House in the movies this year. Olympus Has Fallen, starring Gerard Butler and Aaron Eckhart as bodyguard and President respectively, did some major demolition work before Emmerich's latest, White House Down, starring Channing Tatum and Jamie Foxx as protector and commander-in-chief.
But, hey, he was there first. He levelled the place in his name-making 1996 alien invasion blockbuster, Independence Day. So why has the German-born master of movie mayhem - his credits include Godzilla, The Day After Tomorrow and 2012 - got it in for the world's most famous political residence?
"Well, the script was given to me and I thought it was so good that I had to overcome my initial reaction when I read the title," he says. "The story has so many things; it's a buddy movie, an action movie and a political thriller."
But what about Olympus Has Fallen, which comes with the same exact themes?
"Oh no, our movie is totally different from theirs," he says, straight-faced. "Theirs is a hard R and ours is PG."
Nevertheless, the comparisons must have been frustrating, especially given that Olympus was the first movie out of the gate. He sighs. "When I started my movie I was not aware of Olympus and all of a sudden they had a director and started shooting five weeks after us. So, yes, I was not happy about it, but what can you do? I thought, 'Why couldn't the studios just talk to each other so that wouldn't have happened?"'
White House Down borrows heavily from the Die Hard franchise. The formula relies on an against-the-odds premise when an ordinary ex-cop, or in this case, ex-security guard, is able to take down a team of professional assassins while being enough of a multi-tasker to deliver wisecracks in the face of extreme danger.
The question remains, is the White House really that vulnerable?
Emmerich, who's clearly given the matter much thought, says, "Well, in real life, I would say that they have a security problem because it's a relatively old house, and it's surrounded by higher buildings. But the reason I like using the White House in movies is because everyone knows it. I think it's the most famous house in the world and it's the centre of the Western superpower."
Emmerich is a fan of the current resident of the place.
"He stood up for the gay population, so he's a bit of a hero to me. He's also inspirational and he can hold a speech."
The openly gay director has some interesting ideas on how to push the envelope in future action movies.
"In the same way that when a black man plays a character and the fact he's black isn't an issue, one day there will be a gay action hero, and it won't be important that he's gay," he says. "When that day comes, it will make a difference."
Perhaps if he ever makes Independence Day 2, he could cast a gay president? He considers. "Yes, or maybe the aliens could be gay."
Who: Roland Emmerich, director
What: White House Down
When: Opens today
Follow @nzherald_ent on Twitter for all the latest entertainment news.
- TimeOut