Enterprising director Alex Galvin tells Dominic Corry he hopes his latest film will inspire others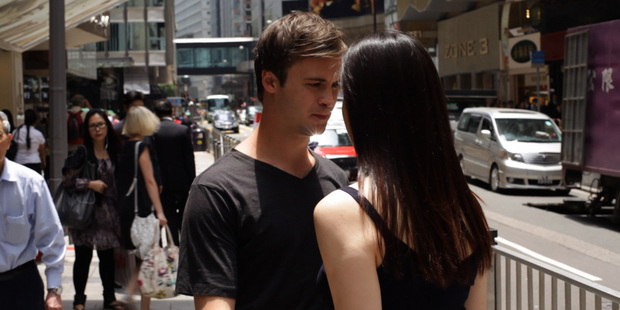 When you don't have a lot of money to work with, ideas can elevate a film; and new local sci-fi feature Eternity is overflowing with good ones. It also projects a glossy production quality that belies its low-budget origins. The film is the brainchild of writer/director/producer Alex Galvin, who has taken the time to hone Eternity into the impressively slick feature which opened at Auckland Rialto cinemas this week.
"I didn't want it to look low-budget," Galvin told me earlier this week. "We've spent three years trying to make it look as good as we can. The whole thing was made for well under $100,000 and I'd like to think there's not a film in the world that can claim to look as good as ours for the same amount of money. Everyone involved can be really proud."
Indeed. Set in the near-ish future, Eternity follows Richard Manning (Elliot Travers), a cop who is taking part in an immersive computer simulation of a 'locked room' murder mystery. As he competes against his fellow detectives to solve the crime, Manning discovers the simulation has been corrupted and he might end up trapped in the virtual world forever.
Eternity is getting all sorts of attention around the world for its bold visuals and ambitious storytelling.
"We've been nominated for four awards at the Madrid Film Festival, it won the special jury prize at the California Film Awards and it was selected for the Boston Sci-Fi Film Festival which is the oldest festival in the US. Plus we're playing at Cannes Antipodes, a sub-section of Cannes which screens films from the Southern Hemisphere. They only show five or six films and Eternity's been chosen."
Galvin added considerable production value to Eternity with a judicious application of expensive digital special effects, particularly in the 'game world' scenes which were shot in New Zealand, as opposed to the 'real world' scenes shot in Hong Kong.
"I'm a big fan of using real locations and using visual effects to complement them rather than a full green screen. On the street we removed powerlines and street signs and any imperfections so that there's a really clean feel to the game world."
Completing all the effects involved calling in a lot of favours.
"We had a company called Polytronik that did most of the fun ones - the computers, the electronics, the cell phones and everything. Then about eight or nine other VFX [visual effects] guys helped over two years; people did a few shots here, a few there. Some people did a lot for free or at a really minimal rate."
In addition to its sci-fi elements, Eternity has a great hook in a whodunit mystery. Galvin's a big fan of the genre.
"I grew up with Agatha Christie books at my Grandma's and those Peter Ustinov films in the 70s where the locations are exotic and everyone's dressed so elegantly.
"But behind that veneer of class there's always a sense of dread and evil and a good whodunit. People still love that."
While he's now looking ahead to future projects, Galvin hopes Eternity will inspire other Kiwi filmmakers to put in the hard yards.
"I want Eternity to be an inspiration to other filmmakers. That, with the technology we have now, you can make something quite low-budget that can still look really good, as long as you're willing to put in the time and effort and care and love. My aim was to make the most beautiful and stylistic New Zealand film that we could. And I think we've achieved that."

Eternity is playing now at Rialto Cinemas in Auckland and other selected theatres around the country. See eternity-thefilm.com