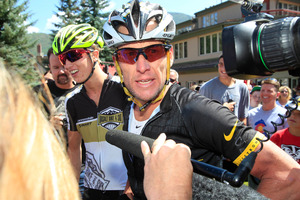 Yes, I'm so over Lance Armstrong too. But what we at TimeOut really want to know is who will play him in the film about his sham of a cycling career? You see, this week Paramount Pictures and director JJ Abrams' production company announced they are planning the biopic after securing the rights to New York Times reporter Juliet Macur's upcoming book Cycle of Lies: The Fall of Lance Armstrong.
And if you ask me, the choice of who will play dastardly Lance comes down to the two Ryans - as in Reynolds and Gosling. And it's not just because both resemble the disgraced cyclist, although Reynolds is possibly more like Lance in his wholesome, pre-dope days and Gosling from his sinister bully boy period.
But believe me, there is more to this casting call than looks.
For starters Reynolds is used to wearing lycra from his stint as the Green Lantern. So he could quite easily go from green tights to the yellow jersey. However, on a more scandalous and juicy personal level, like Lance, Reynolds has also had two wives (Scarlett Johansson and Blake Lively).
He was also engaged to Canadian singer Alanis Morissette for a time before their romance was called off which mirrors Armstrong's relationship with country singing star Sheryl Crow.
And then there's Gosling, who is perhaps in the best position to take ownership of the role of sport's greatest villain. He was in a film called Drive and this one could just be called Ride; in his upcoming movie Only God Forgives he plays a particularly scary criminal underworld character, and surely he's peddled some drugs in one of his films over the years? But it was his performance in Drive that showed he has the ruthless and calm resolve to pull off playing a drugs cheat (though he would have to have more lines than he did in that film because our Lance sure likes the sound of his own voice).
Alternatively, if either of the two Ryans don't work out - or don't want to shave their legs for the part - there's always Chris Pine (aka Captain Kirk from the new Star Trek films) or Justin Timberlake, who did a pretty good job of making millions while being drugged up to the eyeballs as Napster founder Sean Parker in The Social Network.
Of the secondary cast, French star Gerard Depardieu would be perfect as Jean-Marie Leblanc, the Tour de France race director from 1989-2005, Sheryl Crow could play herself (the story could be tweaked so she can put the boot into him publicly after their split), and Russell Crowe would be ideal as staunch Kiwi whistleblower Stephen Swart.
I'd watch a film about Armstrong because the story has it all - from a devious bad guy and loads of drug-taking to the win at any costs mentality and what that does to people's warped minds. But best of all, the film would have scenery to rival The Hobbit. Because while the Tour de France has largely become a farce (though thankfully that's changing), it's still worth watching for the travel show on wheels spectacle of it all.
And for that reason someone - are you reading this John Key? - should get on the phone to Abrams right now and organise shooting the film down here. Central Otago's stunning vistas are the perfect substitute for the mountains and valleys of the Pyrenees and the twisty turns of the Crown Range near Queenstown would come alive as the slopes of Alpe d'Huez.
However, that sort of splendour will be a stark contrast to how the film ends, which will presumably be in a miserable and lonely place where your only friend is Oprah.
- TimeOut