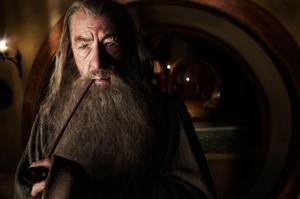 The Hobbit: An Unexpected Journey has missed out on nominations in the directing, acting and overall best picture categories for the 2013 Academy Awards.
However, the Peter Jackson epic picked up three Oscar nominations for technical awards.
The first film in The Hobbit trilogy was nominated for makeup and hairstyling, production design and visual effects at the Oscar nomination ceremony hosted by Emma Stone and Seth MacFarlane overnight.
By comparison, The Fellowship of the Ring, the first of The Lord of the Rings films, was nominated for 13 awards, including best picture and best director.
The film won four Oscars - claiming best cinematography, visual effects, makeup and original score.
Civil War saga Lincoln led the 2013 Academy Awards nominations with 12, followed by Life of Pi with 11.
Hobbit director Jackson told Entertainment Weekly last month he didn't expect nominations in the high profile categories.
However he felt the film had "great possibilities in the below the line categories".
"I wish it was a year where we could celebrate Ian McKellen as supporting actor, or Martin Freeman - or Andy Serkis, for that matter - as a supporting actor. The acting awards seem to elude us, at least for these types of films. I don't know why."
Jackson's Lord of the Rings trilogy picked up a total of 17 Oscars, with the final film in the series, The Return of the King, picking up 11 in 2004.
The 85th Oscars will be held on February 24 at the Dolby Theatre in Hollywood.
- Herald Online