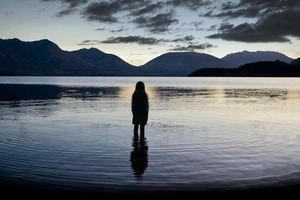 In the forthcoming Sundance and Berlin festivals, a number of emerging Kiwi film-makers will have their work front and centre.
Most prominent is the partnership of Mark Albiston and Louis Sutherland, whose debut feature, Shopping, has been selected to premiere in the World Dramatic competition at the Sundance Festival, which opens next week in Park City, Utah. It will then move on to Berlin's Panorama section.
With a background in advertising, Albiston and Sutherland are the writing/directing team behind the short films The Six Dollar Fifty Man and Run, which garnered special distinctions in the Cannes Festival's Short Film Competition in 2009 and 2007 respectively.
Shot last year on the Kapiti Coast and in Wellington, Shopping is set in 1981 and tells a small-town story of two brothers, Willie (Kevin Paulo) and Solomon (Julian Dennison), against a background of racial tension, the influence of a local thief Bennie who leads a gang of "shoppers", and the boys' relationship with their volatile father.
If it sounds like it's in Once Were Warriors territory, New Zealand Film Commission chief executive Graeme Mason says it isn't. The NZFC financed the film with the support of Fulcrum Media and it was produced by Australia's Warp Films, producers of the hyper-violent Snowtown.
"Mark and Louis have a different sensibility," Mason says. "Once Were Warriors packed punches pretty much from the get-go, whereas Shopping is more a character drama with multiple layers.
"I think people who've seen their award-winning shorts will recognise similarities as they continue exploring the issues of family, race and finding your place in society - and at the same time there's a joy as well."
Zia Mandviwalla's short film Night Shift, which already screened in the 2012 Cannes competition, will be part of the Sundance programme. Mandviwalla, 34, is currently preparing her first feature film and in fact has two films, a drama and a documentary feature in development. "Zia's a talented multi-tasker," notes Mason.
Dunedin-born, Otago University-educated and now Denmark-based Daniel Borgman is another talent to watch this year. The 31-year-old recently completed his first feature, Weight of Elephants, after his shorts, Lars and Peter and Berik, which he made with Lars von Trier's company Zentropa, received critics' commendations in Cannes.
Weight of Elephants is a New Zealand co-production with Zentropa. Based on the novel Of a Boy by Australian Sonya Hartnett, it tells of a sensitive 9-year-old struggling with his fears and anxieties after the disappearance of three children from his small town.
At Sundance, Bret McKenzie stars alongside Keri Russell in the romantic American romp Austenland, which is based on the novel by Shannon Hale and marks the directing debut of Napoleon Dynamite writer Jerusha Hess. It follows a Jane Austen-obsessed American travelling to England, to the theme-park resort of the title where McKenzie plays a Mr Darcy-like actor.
Sundance will also feature the Australia-United States co-production The Captain. Directed by Nash Edgerton and Spencer Susser, this hangover yarn was written by Edgerton, Susser and Taika Waititi who, like Edgerton, is a Sundance favourite.
Overall there will be a strong sense of cross-Tasman co-financing of films at the upcoming festivals. This is perhaps most evident with Jane Campion's Sundance-bound Top of the Lake, a six-part BBC series that was filmed last year in Glenorchy and Queenstown, with 20 per cent New Zealand and 20 per cent Australian financing. After the festival, the series debuts on television on the Sundance Channel in the US and on UKTV in New Zealand in March.
The Berlin Festival is hosting a huge retrospective show, NATIVe - A Journey into Indigenous Cinema. The regional focus of the first year's programme will be on New Zealand/Oceania, Australia, Canada and the US. While the actual films are still to be announced, the programme will introduce audiences to the milestones of indigenous film-making and includes features, documentaries and short films, as well as discussions between experts, film-makers and audiences.
- TimeOut