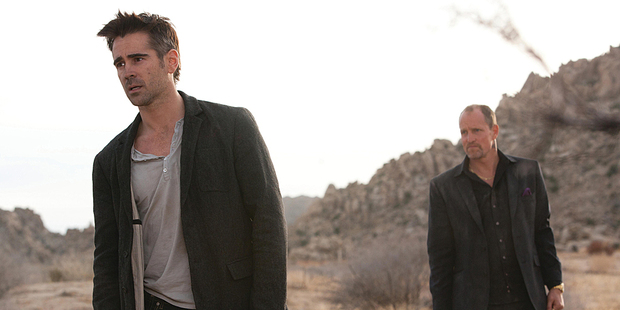 Martin McDonagh does serious and funny with equal facility. Though London-born, he is widely regarded as one of Ireland's greatest playwrights for his two trilogies (some parts of which have been staged here) set in remote communities in western Ireland.
He won an Oscar with his first film, a short called Six Shooter, in which he rehearsed his now-signature blend of menace and absurdity. And his first feature, a black comedy about hitmen, called In Bruges, tipped a hat to Waiting for Godot and was so funny it should have carried a health warning.
His new film may lack the poise and focus of In Bruges, but that's kind of its point.
Imagining Barton Fink directed by Quentin Tarantino gives you some sense of it: Anarchic, boisterous and blood-soaked, it does not so much flirt with improbability as bowl it over and smother it with French kisses.
The tortured artist makes a great subject - and it's doubtless no accident that this film's main character (Farrell), a screenwriter with writer's block, is called Marty.
Trying to write a script with the same title as the film he's in, he's having trouble getting beyond the first line. In this he's assisted not at all by his upbeat buddy Billy (Rockwell) and the disturbingly downbeat Hans (Walken, whose sly, self-mocking performance is the best thing he's done in years and the film's standout). Billy and Hans are in business together, but it's best you don't know what their line of work is.
As Marty tries to mould Billy's suggestions into words on a page, the self-referentiality dial goes into the red zone: the boundaries between real and imaginary blur and melt until nobody, least of all the characters, is very sure who's in charge and who's in danger.
As the title suggests, the seven main characters are not the kind of people you take home to meet your parents. They range from a homicidal Quaker (a terrific cameo by Harry Dean Stanton), through Zachariah (Waits), who takes his pet rabbit to work (he's a serial killer of serial killers), all the way up to swaggering gangster Charlie Costello (Harrelson), who alternately blubbers and rages about the loss of his beloved dog.
Quite what McDonagh's trying to say here about the writing craft only he and his psychoanalyst know. But after a few minutes of this ferociously entertaining film, you won't care.
Stars: 4.5/5
Cast: Colin Farrell, Sam Rockwell, Christopher Walken, Tom Waits, Abbie Cornish, Olga Kurylenko
Director: Martin McDonagh
Running time: 110 minutes
Rating: R16
Verdict: Boisterous, blood-soaked and ferociously funny
- TimeOut