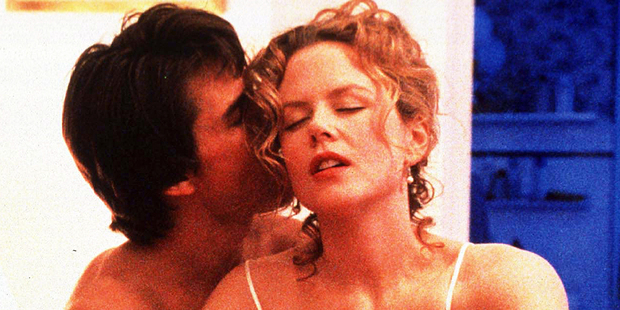 It's a rumour that's been bandied about for years.
Nicole Kidman and Tom Cruise's starring roles in director Stanley Kubrick's sexually charged Eyes Wide Shut ultimately harpooned their 10-year marriage.
Really?
Cobblers, says Kidman, who, in a piece she penned for The Hollywood Reporter, dishes about her experience of working with Kubrick and her then-husband Cruise on the controversial 1999 movie.
"People thought that making the film was the beginning of the end of my marriage," she writes, "but I don't really think it was. Tom and I were close then, and it was very much the three of us."
She continues: "Onscreen, the husband and wife are at odds, and Stanley wanted to use our marriage as a supposed reality. That was Stanley: He used the movie as provocation, pretending it was our sex life.
"Which we weren't oblivious to, but obviously it wasn't us. We both decided to dedicate ourselves to a great filmmaker and artist."
Kidman, 45, and Cruise, 50, spent two years working on the project with Kubrick, and officially divorced in 2001. Speculation had it that the unrelenting shoot had taken its toll on their union.
"My approach to the two-year shoot was actually very Zen," she says. "Tom and I thought, 'We're so lucky, we've gotten to spend two years with the master.'"
Kubrick died on March 7, 1999, before the movie was released.
"Stanley said the film was finished - but if he had more time, who knows how it would have morphed," Kidman adds.
'STANLEY HAD TO COAX ME'
Kidman also shares that the late director had to "coax" her "into some of the sexuality in the film in the beginning", adding that more "extreme" footage was left out of the finished movie.
"Stanley had to coax me into some of the sexuality in the film in the beginning, but we shot things that were a lot more extreme that didn't end up in the movie," she explains.
"I did feel safe - I never felt it was exploitive or unintelligent. He was very different with women than he was with men. He has daughters, so he was very paternal with me."
The actress, now married to country music star Keith Urban, also says that the director's death cast a shadow over the movie's release.
"There was a lot of interest in Eyes Wide Shut before it was released. But the weekend it came out, July 16, 1999, was the death of JFK Jr, his wife and her sister - a black, black weekend," she recalls.
"And for Stanley to have died [on March 7, 1999, at age 70] before the film opened ... well, it all felt so dark and strange.
"Stanley had sent over the cut he considered done to us, Tom and I watched it in New York - and then he died."
She says of learning of Kubrick's death: "The next morning, I got the phone call. That was one of the worst calls; I just started screaming. I had Isabella and Connor [Kidman's children with Cruise] in the kitchen with me. Tom and I immediately got on a plane.
"The funeral was so traumatic. I truly loved Stanley and felt very connected to him. He was in our lives intensely for about four years."
Kidman also reveals that Kubrick never explained what the movie is about.
"People have asked me if Stanley ever told us what Eyes Wide Shut was about - and the answer is no," she writes. "He always said, 'Never say no to an idea - you never know how that idea will ignite another idea.' He also said: 'Never put me on a pedestal. When someone's on a pedestal, there's no creativity.' That's how I approach every creative person now - it does not help to glorify them."
'I HAVE NO REGRETS'
Kidman also opened up the ex files in a recent interview with Who magazine.
Speaking to the mag, in the wake of Cruise's divorce from Katie Holmes, Kidman shared that she didn't regret her marriage to the Top Gun star.
"I got married really fast and really young," Kidman said. "But I don't regret that because it got me Bella and Connor, and I did have a fantastic marriage for a long period.
"Then when it didn't work out, I had to really dig deep and find my way through depression. I have no regrets about all of it. It was all part of growing up," she said.
"There were times following [the divorce] when I thought, 'Wow, this is the loneliest, loneliest existence.' But with Tom, it was a fantastic decade. I wish all of the people that have been involved in my life well, because it's very important to me to be in a place of forgiveness and love."
Kidman also revealed that - despite rampant rumours to the contrary - she did not counsel Holmes after her split from Cruise.
"I never spoke to her. I wish all of them well, but I was not involved in any of that," she said.
The Aussie actress can next be seen on the silver screen in erotic thriller The Paperboy, co-starring Zac Efron, Matthew McConaughey and John Cusack.
Check out the trailer here.
FAST GOSSIP
And finally...
* Sneak-a-peek: Justin Timberlake and Jessica Biel's wedding photos revealed, couple's wedding video featuring homeless draws criticism.
* Megan Fox threatens to sue over fake nude pic.
* I can feel a song coming on: Taylor Swift and Conor Kennedy reportedly split.
* Madonna falls flat on her face during Like A Prayer performance on tour.
* James Franco denies dating Ashley Benson...and Kristen Stewart and Selena Gomez.
* Lindsay Lohan accused of stealing clobber from Scary Movie 5 set?
* Britney Spears' father "threatened to kill me", says Sam Lutfi.
* Bobby Brown arrested again on DUI charge.
* Daniel Craig on Adele's Skyfall theme: "I cried". In a good way, folks.
* Alec Baldwin's alleged stalker: "I'm not crazy".
Follow Myrddin Gwynedd on Twitter.
- Rumour Has It