A largely improvised script for the award-winning Like Crazy enhanced the intensity of acting out first love for its stars, writes Helen Barlow.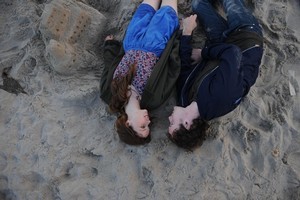 Last year's Sundance Film Festival winner Like Crazy is a movie about soulmates, about meeting that one person who really gets you, who you feel you cannot live your life without. Only here, for visa reasons, you can't be with them at all.
"The film is very personal for me as I had similar customs issues with a girl from Austria," explains the film's first-time director Drake Doremus, a Los Angelean who wrote a 50-page summary of the story, and then left his actors to work out what to say.
"It's heartbreaking because it's not just being separated by country; it's being separated by government in a way."
In the film, aspiring Californian furniture designer Jacob (Anton Yelchin) and Londoner Anna (Jones) meet in the US and when she overstays her visa the authorities come down hard. Anna returns to London and an on-again, off-again long-distance romance follows with Jacob's occasional visits to London. The two get into other relationships and start careers 10,000km apart, while pondering how they could reunite permanently - and whether they should.
For Yelchin, Like Crazy represents a return to independent film after studio movies like Fright Night, Terminator: Salvation and Star Trek (he played navigator Chekhov). Apart from the fact that the 22-year-old is six years younger than Jones, he is an unlikely romantic lead here. Yet he is surprisingly effective - and lovable.
"It wasn't about being sexy," Yelchin says, "what I wanted to do with Jacob was the exact opposite. I put on some weight and made him look out of shape and balding - even if have a thick head of hair I accentuated the shit out of it - because Felicity is so beautiful and charming. I just love that you buy that she falls in love with this guy who isn't like a model, then she goes to date her neighbour who's so good looking and in great shape. But their connection
is just not the same."
Rising Brit star Jones, who won a Special Jury Prize for Best Actress at Sundance for her role, greatly impressed Doremus with her self-made improvised audition tapes and says it was "a no-brainer" to cast her. "She actually flew over to the US two days afterwards, we had five days of rehearsal for 15 hours a day and then we were shooting. They were in the relationship."
"I didn't meet Drake and Anton until the first day of rehearsal, so it was quite daunting at first," she says, not sounding very daunted. "But we spent quite a lot of time organising how the characters would develop, their costume changes and their mood shifts, so once you had that in place, you could be free in the moment. I suppose it's often done in comedy, in things like Curb Your Enthusiasm, so there's no reason why you shouldn't apply the same method to drama."
"It was so intense you just forgot you had a whole other life," says Yelchin who only saw his then girlfriend once during the month-long shoot. "This other person just became you."
Doremus, 28, came to film-making by way of improvisational comedy as his mother had been a founding member of the Los Angeles improvisational comedy troupe, The Groundlings.
"I started making movies in the normal way but then by combining the two methods I came to my current process," he explains.
"There's not a lot of dialogue in the film. It's in a look, it's in a stolen glance, it's in a silent moment and that to me is what a relationship is. Everything gets stripped down to the point of it being emotionally raw and true."
- TimeOut / Additional reporting The Independent