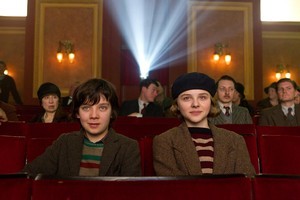 Martin Scorsese's first 3D film is a mesmerising, enchanting affair based on Brian Selznick's imaginative book The Invention of Hugo Cabret.
A novel and picture book combined, The Invention of Hugo Cabret is the story of 12-year-old orphan and thief Hugo who lives inside the tunnels and walls of a Paris railway station during the 1930s.
The film's protagonist may be young but this drama isn't aimed at a young audience, and it's not by any means an average family film. Filled with thoughtful and nuanced performances from a cast of established stars and newcomers, Scorsese and his talented team, including director of photography Robert Richardson (The Aviator) and production designer Dante Ferretti (Sweeney Todd: The Demon Barber of Fleet St), have created an extravagant, enchanting world for a charming tale of hope and friendship.
Asa Butterfield (Bruno in The Boy in the Striped Pyjamas) is Hugo, who spends his day avoiding the comical stationmaster (Sacha Baron Cohen) and stealing parts to mend a complex wind-up toy known as an automaton, a project that was dear to his father's heart before he died.
Caught stealing from the station's toy vendor (a character based on real life French film-maker Georges Melies and played by Ben Kingsley) Hugo befriends Georges' granddaughter Isabelle (Moretz) and the two set about solving the mystery of how the automaton works, and uncovering Georges' secret artistic past.
I don't say this very often, but this film should be seen in 3D. From the continuous opening shot bringing us to the platform and into the railway station it's clear that with Hugo, Scorsese has used 3D to maximum effect and the results are simply magical.
The experience of watching Hugo is actually more enchanting than the story itself which drifts too often into the lives of others at the railway station. It's also, at two and a half hours, too long, in particular when this launches into telling Georges' story which would make a film of its own.
Though the result may be a wonderful whimsical tale that is at times a little ponderous, those wanting something more than your average family film will find Hugo a pleasurable love letter to the art of film-making and a tribute to the early days of cinema.
Stars: 4/5
Cast: Asa Butterfield, Chloe Grace Moretz, Ben Kingsley
Director: Martin Scorsese
Running time: 126 mins
Rating: G
Verdict: A long, but magical, whimsical fantasy
- TimeOut