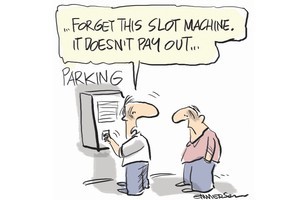 A man who went to the international film festival at the SkyCity Theatre is upset that the cost of parking his car for two hours was double the price of his movie ticket.
John Clarke, in his 60s, parked his vehicle in the SkyCity carpark from 12.30pm.
At 3pm he returned and was shocked that for just over two hours parked there, it would cost him $22.
His movie ticket cost $9.50.
Mr Clarke said he could not believe how expensive it was given he had parked for 2 hours and it was a Sunday.
"I thought it'd be less than that. The carpark was half empty.
"I was at the machine and there were several people who had just come from the theatre also, up in arms about it," he said.
"There was an older guy in front of me. He just said: 'Surely they can't expect us to pay that much - that's more than the ticket'."
Mr Clarke would have saved more than half the money he spent on SkyCity parking had he parked up at the Wilson carpark at the Affco House on Albert St, which charges $5 at the weekend. Or at the Tournament carpark at 82 Albert St - just behind SkyCity - which charges $7 to park during the weekend, all day.
A spokesman for SkyCity said yesterday that the parking rates were clearly visible on signs at the carpark entry.
Had Mr Clarke spent $20 or more at the theatre bar, the casino or restaurant, for example, and then validated the carpark ticket, his parking would have cost just $5.
That offer however, does not include tickets to the SkyCity theatre.
Mr Clarke only went to see the film and had not bought any food or beverages, he said.
"I just went to see the film and then came straight back.
"I didn't even get food ... They're always encouraging people to go there but if their parking's going to be this expensive then nobody's going to come," he said.
"I won't park in there again."