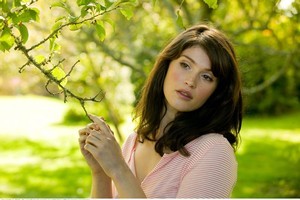 Based on Posy Simmond's graphic novel, originally serialised in the Guardian's Review supplement, Tamara Drewe is a light and frothy satire on life and lust in a quiet English country village.
Inspired by Thomas Hardy's classic story Far From the Madding Crowd, Tamara Drewe is Simmond's modern take on manners, morals and sex in the middle classes. The setting is old worldly and romantic, at a country house in the picturesque countryside which is used as a writers' retreat; add a variety of brash and boorish characters though and there's no doubt you're in the 21st century.
Director Stephen Frears (The Queen) and his talented cast have plenty of fun. They're an amusing collection of characters made up of pompous writers, bored teenagers, a rock star, a patronising adulterer, a downtrodden wife and a surgically altered beauty. It's this last one who causes all the trouble.
Once considered the ugly duckling of the village because of her large, beak-like nose, Tamara (former Bond girl Gemma Arterton), now a successful newspaper columnist, returns home to sell her deceased mother's house.
With a new snoz and some revealing cut-off denim shorts she becomes, in one quick climb over a stile, the envy of the female population in her small hometown village, and much desired by the blokes.
There's revenge to be had, past mistakes to be rectified, and new mistakes to be made by pretty much everyone. None of those involved are terrible likeable so it is hard to get too concerned, but there is real satisfaction in watching them bed-hop their way towards their comeuppance.
After a rollicking start, Tamara Drewe does go from a brisk walk to a country stroll, and what's missing in this meander are punchy one liners. And this lack of focus is the difference between this and Frears' previous works like The Queen and High Fidelity. However, thanks to delightful performances by a solid cast Tamara Drewe is lively, fun entertainment.
LOWDOWN
Stars: 3.5/5
Cast: Gemma Arterton, Tamsin Greig
Director: Stephen Frears
Running time: 111 mins
Rating: M (violence/offensive language/sex scenes)
Verdict: Not on the same level of Frears' previous work, but still lighthearted fun.
-TimeOut