Aussie crime drama Animal Kingdom has shown Jacki Weaver can play characters a lot tougher than she looks. She talks to Russell Baillie.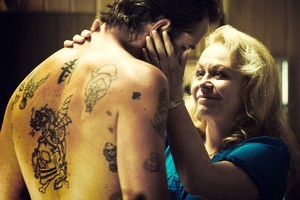 When director David Michod wrote his acclaimed debut feature, Animal Kingdom, he had veteran Australian actor Jacki Weaver in mind for the role of Janine "Smurf" Cody, the matriarch of a family of Melbourne crooks who go to war with the police - and themselves.
That was quite a compliment, says 63-year-old Weaver, down the line from her home in Sydney. Though it has happened before.
"You do get sent scripts sometimes and they say 'it's written especially for you' but it's not that great and you don't know what to say," she laughs.
But she always thought Michod's script was terrific, right from when she got it six years ago. The resulting film bears that out. It won the Sundance Film Festival's Grand Jury Prize earlier this year and has become one of the best-reviewed movies of 2010.
And for Weaver, whose screen career dates back to late 1960s TV and includes 15 or so features, it has become the role of a lifetime - and one which neatly casts her against type.
"All my life I have wanted to play Lady Macbeth and of course I am too old now and because I present as something quite sweet - I think I am as nasty as the next person - but most of my life I have been getting the nice girl roles and now the nice old lady roles.
"For a long time I only played children. I was playing children until I was in my 30s because I am very small and I have a sort of babyface. So that I am now allowed to play grown-ups is quite good. So I am getting paid back now for having to play children until I was quite old."
Janine is the mother of three doting adult sons who haven't strayed far from the nest despite their lives as career criminals. She takes in a teenage grandson just as the police attention on the clan is becoming unbearable.
The story is loosely based on events surrounding the Walsh St murders when two young Melbourne police officers were shot dead in 1988. It comes as part of a long fixation with the criminal fraternity in Australian cinema as well as television's Underbelly.
Weaver says she had no qualms about being in a movie about a real-life underworld.
"Not really. As you probably know it does mirror some real events which happened in Melbourne. We've been a bit cagey about discussing exactly what they were, because David wanted to make a piece of fiction. There are some similarities and the people who were involved have said some angry things. Luckily I live in Sydney and they live in Melbourne. Not that I am concerned because most of them are dead now."
She and Michod came up with a personal history for her character whose level of affection for her boys seems slightly dubious.
"She does have that true sociopathic villainy like you do find in some of the Shakespearean baddies and you think that there might be something ameliorating all this due to the fact that she loves the children. And then you realise she will even eat her own young. Obviously she's lived a life where she has gained and profited from all this wrong-doing, so she's got no conscience."
"We went to town on her back stories. Even though they were none of the audience's business, it's great fun when you are an actor to make up the back story and we figured that she had been into a life of petty crime and the children had all been fathered by different men who were criminals themselves and were probably violent and she had never had a proper adult relationship and that is why the intimacy with the children is a little inappropriate."
The character shows Weaver, so long a familiar face on Australian screen and stage, can foot it with the grown-ups.
"My mother used to say I'm a household name, like Sorbent. I'm like this family retainer. Everybody knows me in an affectionate and unexcited way," she laughs.
But with her performance, you can imagine even the folks who recognise her in the street near her King's Cross home might think twice before calling her by her character's nickname - "Smurf".
"I think it was because they sound harmless and appealing that is how [Michod] wanted her to seem at the beginning."
- TimeOut