Rating: 4/5
Verdict: Profane and hormone-soaked teen comedy rings true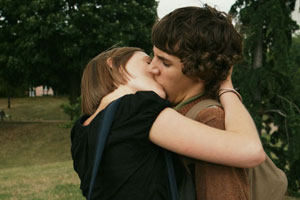 I'm not sure what it says about us that this film, rated R16 here, had a classification equivalent to our G in its native France, but plainly the storyline, which involves a little French kissing and a lot of a physical activity much practised by teenage boys, raises fewer French eyebrows than Anglo-Saxon ones.
Director Riad Sattouf is a well-known cartoonist and graphic novelist whose works (titles include The Secret Life of Teenagers and The Book of the Virgin) plainly equipped him for this winningly energetic film about teen angst.
Its French title, Les Beaux Gosses - literally "The Handsome Guys" - is perhaps best rendered "The Cool Dudes" because cool is one thing that Herve (Vincent Lacoste) and Camel (Anthony Sonigo), are not.
Almost visibly pulsating with hormones, they spend their days in a haze of sexual arousal (which they frequently pause to relieve, both alone and together), as they fantasise about torrid romances with their classmates and young neighbourhood mothers.
Their grand designs are somewhat handicapped by the fact that they are not exactly handsome guys either: Herve is orthodontically enhanced and acne-challenged and Camel, a mullet-head thrash-metal fan, who's even shorter and spottier, calls himself "the Arab romantic type".
Both are desperate for a date - or even some of the titular tongue-kissing - with any girl but preferably the fragrant Laura (Julie Scheibling) or Aurore (Alice Tremolieres).
Sattouf, who plainly has a keen memory of the miserable landscape of pubescence, spendidly evokes the world of his hapless anti-heroes - a small provincial city in an age (notably) before cellphones.
In contrast to the teen-model stars of American romps, the kids look and act like real kids - and that's what makes the film so charming.
Its drama, such as it is, turns on the contradiction between young men's desire for sex and terror of intimacy but it's mostly an amiable, if profane, comedy of manners, devoid of cuteness or faux romance.
Cast: Vincent Lacoste, Anthony Sonigo, Emmanuelle Devos, Julie Scheibling, Irene Jacob, Valeria Golino, Alice Tremolieres
Director: Riad Sattouf
Running time: 87 mins
Rating: R16 (offensive language, sex scenes) In French with English subtitles