Rating: * * * *
Verdict: Delightful, lively family fun.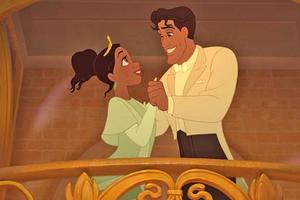 Good old 2D hand-drawn animation isn't very fashionable these days, in particular when compared to the gimmicky 3D and CGI animation, and the artistry of stop motion. This hasn't stopped Disney from bucking the trend and revisiting this old-school technique to good effect in The Princess and the Frog.
Disney may be looking back with the style of animation and the jazz era setting, but it's looking forward when it comes to its leading lady, casting its first African American in the princess role.
The Brothers Grimm's original story about a princess whose kiss turns a frog into a prince is still the basic idea, but this loosely adapts E. D. Baker's novel inspired by the story, giving it new life and a modern edge.
Our heroine, Tiana (Anika Noni Rose) works double shifts as a waitress, shunning her friends and fun so she can save enough money to open her own restaurant, a dream she shared with her late father.
Very close to achieving her goal, Tiana's plans are derailed when she encounters a chatty frog (Bruno Campos), who claims to be Prince Naveen of Maldonia, a royal visiting New Orleans who has become the victim of an evil voodoo doctor, Dr. Facilier (Keith David).
The Prince promises to help fund Tiana's restaurant if she helps him return to his normal good-looking human self. What follows is a wonderful romp through the mystical bayous of Louisiana where we meet a variety of madcap Southern characters as they search for the blind voodoo queen Mama Odie (Jenifer Lewis).
Though roles are reversed and our heroine is independent and smart, there are still plenty of sweet Disney touches, like tiaras and evening stars to wish upon, and even before the opening titles are complete we're bombarded with family friendly messages about working hard to achieve your dreams.
Randy Newman is responsible for the music, and his jazzy grooves aren't as schmaltzy as Disney tunes can sometimes be, but aren't quite memorable either. If the Disney folks were hoping to recapture the magic of their golden era, they don't quite achieve it. But the animation is dazzling, the characters charming, and the originality shown in the story proves there is life in this classic technique yet.
Cast: Anika Noni Rose, Bruno Campos
Director: Ron Clements, John Musker
Running time: 97 mins
Rating: G