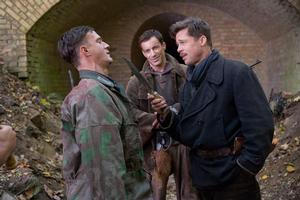 Rating: * * * *
Verdict: QT lets slip the reservoir dogs of war and delivers his best flick in some time.
On its final body count, this may be the most violent Quentin Tarantino film yet. And considering the once-maverick director's past excesses, that's saying something. But it's also one of the more grimly enjoyable and outrageously funny. And like his Pulp Fiction, Inglourious Basterds' ensemble sparks with many an electrifying performance.
Sure, its two and half hours, delivered in five chapters, come with too many extended scenes that are seemingly deathless before they inevitably turn deadly. Though some, like the opening scene involving just a kitchen table conversation between a French farmer and an German officer drip with a tension and menace that if anything is more riveting than its outbursts of violences .
That body count is, of course, because it's a war movie. But while Inglourious Basterds might resemble Nazi-occupied France of World War II, its world is strained through other films - its title is a reference to an obscure 1978 Italian warflick and it has echoes of The Dirty Dozen - rather than having any feeling or perspective on the event itself.
Given its remove, it's hard to work up much of an objection with the grand liberties this takes with history.
Instead, it's amusingly honest about being a hardcore wish-fulfilment fantasy with its central story about a squad of Jewish-American commandos led by Brad Pitt's Aldo Raine, killing and scalping Nazis (because Raine is part Apache just as the movie is part western) behind the lines in 1944.
Movie history, though, remains sacrosanct with the clever-clogs cineaste Tarantino finding plenty of time to have his characters drop abundant references to early German cinema. Likewise, this might be a period film but its soundtrack is all lifted from other movies - whether it's a spot of trademark Morricone spaghetti western twang (itself reappropriating a bit of Beethoven) or David Bowie's overwrought Cat People (Putting out Fire) which lurches in from the 80s to underscore a scene where a character is contemplating - oh now we get it - arson.
The merry band of sadists might make up the misspelled title, but they and Pitt are only one thread of the plot, which centres on a Paris cinema screening of a German propaganda film, to which its producer, Joseph Goebbels, is planning to invite a few mates from work including the boss.
That gives the Basterds, helped by a German film star turned spy (Kruger), an assassination mission.
But already way ahead of them is the picture palace's owner (Melanie Laurent in a riveting turn) who has had past dealings with the night's security boss, SS Colonel Hans "The Jew Hunter" Landa (Waltz). Waltz's is the standout performance as an oddly complex character who could so easily have been a jackbooted cartoon, while Pitt provides most of the punchlines as he chews his way through Tarantino's dialogue.
It all makes for one bloody, nasty, funny film. And despite its indulgences, one that will rightly be hailed as a comeback for its rockstar director.
Russell Baillie

Cast: Brad Pitt, Diane Kruger, Christoph Waltz, Til Schweiger, Eli Roth
Director: Quentin Tarantino
Rating: R16 (violence and offensive language)
Running time: 154 mins